Hello lovely people! I can't believe its day four already! I feel like it should be harder work to get the results that people say you can get from this. Obviously it helps if you exercise and eat and healthy at the time, but I've read about people who haven't wanted to exercise (or can't) and its worked for them. So I think that, with all things like this, you get more out of it the more you put into it, but Thrive gives you more of a head start than others.
The Lifestyle Mix is the shake that your supposed to take 20-40 mins after you take the pill. (Heres the Lifestyle PDF if your interested). Its vanilla flavoured and when not made with water it is delicious! On the first day I said that I wish it came in other flavours, but I'm totally okay to drink this for the rest of my life. So the shake, heres what they say it does:
Ultra

Micronised

Nutrient Mineral Dense Formula

Probiotic & Enzyme Blend

Antioxidant & Extract Blend

Lean Muscle Support

Weight Management or Fitness

Gluten Free
It really is Ultra Micronised, it dissolves so well. I try leave it for a few minutes to make sure its all soaked up, but I was so surprised at how un-gritty it was. The shake has more of the good stuff that the pill does, plus a few extra vitamins and stuff. Its mainly to help you digest the pill better and it helps to improve your digestion in general and all your lovely gut-ness.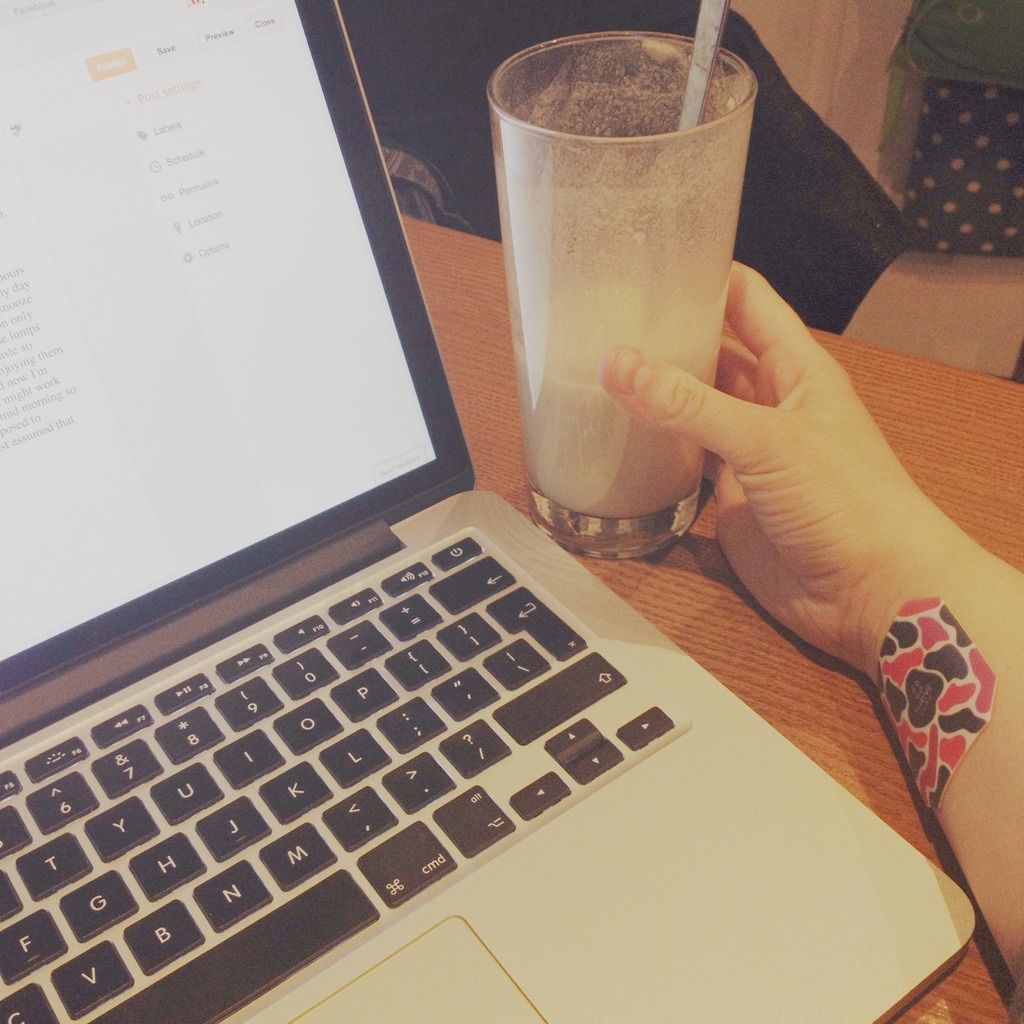 8:30 - I had a lie in!! I did wake up at 6.30 like normal but I managed to get back to sleep for 2 hours which was lovely. I am really enjoying these early mornings and having all the energy but on my day off it is nice to sleep past getting-up-for-work time. I also think I needed to have a little extra snooze because I had such a draining day yesterday. I took my pill as usual, and the shake. I'm still on only half measures, but tomorrow for the last day, I'll be taking the full amount. I still can't get the lumps out of the shake so I can't wait to buy a Shake Flask! I'm really enjoying the shakes, they taste so good with almond milk, I actually put a chocolate soy milk back yesterday because I'm enjoying them so much! The only down side I can see is that before, I didn't really drink much milk and now I'm drinking 8-16oz a day. So I think I might have to look into bulk buying almond milk, it might work out cheaper? I had a proper breakfast this morning, because I'm getting really hungry mid morning so I don't think the shakes are enough for me. I'm actually not sure if the shakes are supposed to substitute a meal? I don't think they are because it doesn't say it anyway, I think I just assumed that was the way it went, whoops! Also, the DFTS are a pain to take off! It hurts! Not like a bad hurt, but definitely think sellotape/duck tape being pulled off, I thought it would be less harsh than than. With that in mind, I still put mine on the inside of my wrist today. I've seen a lot of people wearing it there, so I thought I'd give it a go. So far it has been the most annoying place to wear it, I think maybe because your wrist is constantly moving, and you can see it all the time, but we'll see.
2:00 - Me and my nan went the cinema to see Cinderella, and it was amazing! I don't now if it's Thrive stirring things up in my body or I'm just being effected by the moon or something because I am weepy at the moment. I cried all the way through the film, it was quite embarrassing! Again I felt brilliant all day, and even when I'm hungry I don't feel weak, and lightheaded like normal. I am noticing that I'm getting hungry more often, I think It's because where I would usually fill up on crap and sugar, I'm not really having any of that because I'm not craving it, so while my bodies adjusting to not snacking as much, the time between food is getting longer, but I'm also getting fuller faster, so dunno whats up with that?! Hopefully that will just be something I get used to and my tummy will get used to the new feeding times.
8:30 - I got a headache (boo hoo). Im surprised I didn't get one on the first day of taking Thrive. My body seems to react to new things by giving my migraines, so for this to be the first one I've had so far, I'm taking it as a good sign. The DFT on my wrist is a pain in the butt. I don't know how anyone wears them there, it was just there all day. It kept getting caught on my sleeve, and when I moved a certain way it would pull at my skin and it was just generally irritating. I don't think ill be wearing it there again, I much preferred it on my shoulder. Also it leaves a weird sticky 'halo' when you take it off...it takes a bit of scrubbing so maybe don't put it particularly visible place. I got my shake flask which I am very excited to use tomorrow! It's only a little one (the others in the shop were obscenely huge) and its sparkly gold!!
Tomorrow Im on the full dosage for my last day (sad times) and I'll let everyone now my final verdict on this stuff (although I think you might of guessed what I think!) I've really enjoyed this little trial/challenge thing and I hope you've enjoyed reading it!
love and hugs x