I love food. Its no secret. I think about food all the time. I eat breakfast and while Im eating it Im thinking about whats for lunch. Food is great, and when its done right it awesome. I love going to new places and trying out new foods. So I thought I would start my own food review, sharing my favourite places from around the UK and the world.
The other week me and Mum went to
Great John Street Hotel
for
Gentleman Jack Afternoon Tea
. Its supposed to be for an afternoon tea for men, but we liked the sound of it more than the 'woman'. Were kind of doing a Afternoon Tea road-trip so I think its only fair we try every type, right?! It was
amazing.
The place was so cool, it is a re-furbished old School House so all the rooms are named after school rooms like 'Headmasters Room' ect. The decor was so beautiful done, all white and wood, really soft and warm, and the seats were so comfy! I could of lived there if it was a house. I didn't get a picture of the bar, but it was awesome, all reclaimed wood and glass, really rustic.
First of they took us to our seats which were up on the balcony. It would of been nice to sit down by the bar near the fire, it looked a lot cosier down there, but it was also nice to be out the way of everyone else. We sat in the corner by the window and the bookcase next to the private dining area which I had a peak in. It had its own kitchen and everything! so cool! They asked us if we had any dietary requirements (which I thought was pretty good of them!) and then bought over our Gentleman Jacks Cocktails which were. A.MAZE.ING. Probably one of the best alcoholic drinks I've ever had. I wish I'd written down what was in it! I hope mum remembers? Next they bought out the lunch. It came on a little wooden board, which I love, I think when its done right it looks really cool. We got a half scotch egg with piccalilli sauce, a small portion of fish and chips (1 piece of fish and two chips), a teeny tiny burger, a portion of chips, a chicken pie and a battered prawn with sweet chilli sauce. You wouldn't think that it was a lot but it was so filling, and
so
tasty.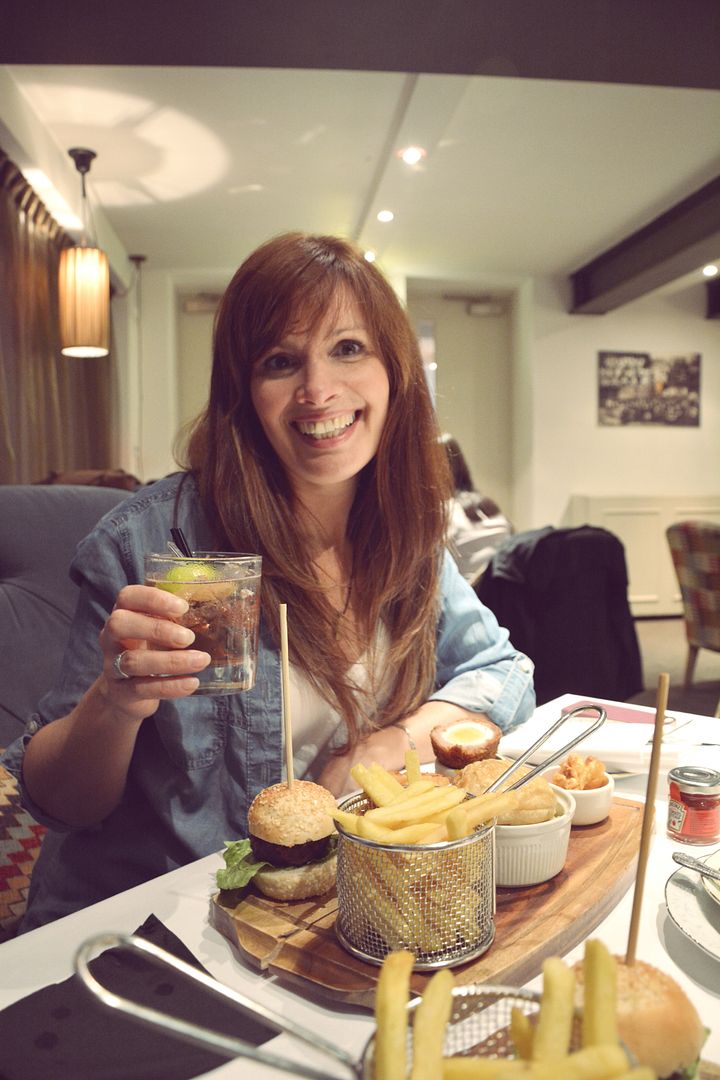 The scotch egg, chicken pie and prawn were probably my favourites with the pie comping out on top. I took little bites of each thing to see what I liked the most, then ate them in preference order (anyone else that weird eating food?!) I just hate it when you eat your favourite thing first, Id rather end on my favourite, so I try everything first just to see. Just me? okay...moving on!
The burger was my least favourite. It didn't really taste of anything, it was
nice
I just wish it would of had a bit more flavour, or a sauce on it? The fish also wasn't anything special, but the chips that went with it were amazing. The scotch egg was delicious (the Piccalilli, not so much), the centre of the egg was runny and the sausage around it was very flavour-y. The Prawn was great, I've only recently started to eat them, and this was a great example of a prawn haha! The chicken pie....OH MY GOD! Heaven in a ramekin! Seriously one of the best things I've ever eaten. We both left it till the end because it was the best thing on the block. I want to go back just so I can have that again, I wonder if they do a full size version? I hope they do. I need to eat it again.
As you can see we ate
everything,
licked the platter clean. I liked that they left a decent amount of time between clearing the plates and bringing out desert. Turns I probably needed a couple hours to be ready for pudding because I only ate the ice cream and even that was too much. I'm not a huge fan of cheese and crackers, but the brownie was lovely. Very rich and nutty and the ice cream was baileys flavoured. I think I personally would of preferred something more sweet instead of cheesy, maybe men prefer cheese? I don't know. Next they bought out tea and coffee. All the tea was organic which was awesome and so tasty. I had just a normal breakfast tea, but it just tasted so much better than 'normal' tea. We ended up being there for over 2 hours, which was the recommended time to have it. The staff were lovely, and made sure we had everything we needed and checked on us to make sure everything was okay. We had such a great time, and I cant wait to go back and maybe try the ladies one...but I think id have to order a gentleman jacks cocktail on the side...and a chicken pie.