I love food. Its no secret. I think about food all the time. I eat breakfast and while Im eating it Im thinking about whats for lunch. Food is great, and when its done right it awesome. I love going to new places and trying out new foods. So I thought I would start my own food review, sharing my favourite places from around the UK and the world.
The other day me and the mother went to a little place in Manchester called
Teacup Kitchen
. Neither of us had been there before, but we'd both seen it on Instagram and thought it looked good. We kinda stumbled upon it while we were walking round the Northern Quarter a little bit lost. I was in desperate need of a coffee and some breakfast, so I just honed in on it as soon as I saw the sign outside. I loved the decor, kinda old school canteen chic (is that a thing?!). Everything was reclaimed wood, and they even had old school chairs with the little thing to put books in on the back, it was all very cool. And also very red. Red and wood is how I would describe it haha, with some chalk board thrown in for good measure!
We ordered toast, mum had rye toast and I had sourdough with poached eggs. It was so scrummy I could of eaten it twice. It was nice to not have that really thick doorstop toast that most 'trendy' places have, thats just too much bread guys! But this was just the right amount and super tasty. I think they make their own bread? At the very least they get it from a bakery. The coffee was so good. I find it hard to like any coffee but the one at my own cafe, especially because I usually have it
black, but this was definitely one of the better ones, and you got a good decent sized cup too!
We had to try some of the large selection of cakes,
of course, so we decided on the gluten free chocolate cake which was AMAAZING! Maybe one of the best chocolate cakes
ever
, it practically melted to liquid in your mouth, so smooth. Of course I had two mouthfuls and felt super sick for the rest of the day because it was that rich, but it was totally worth it!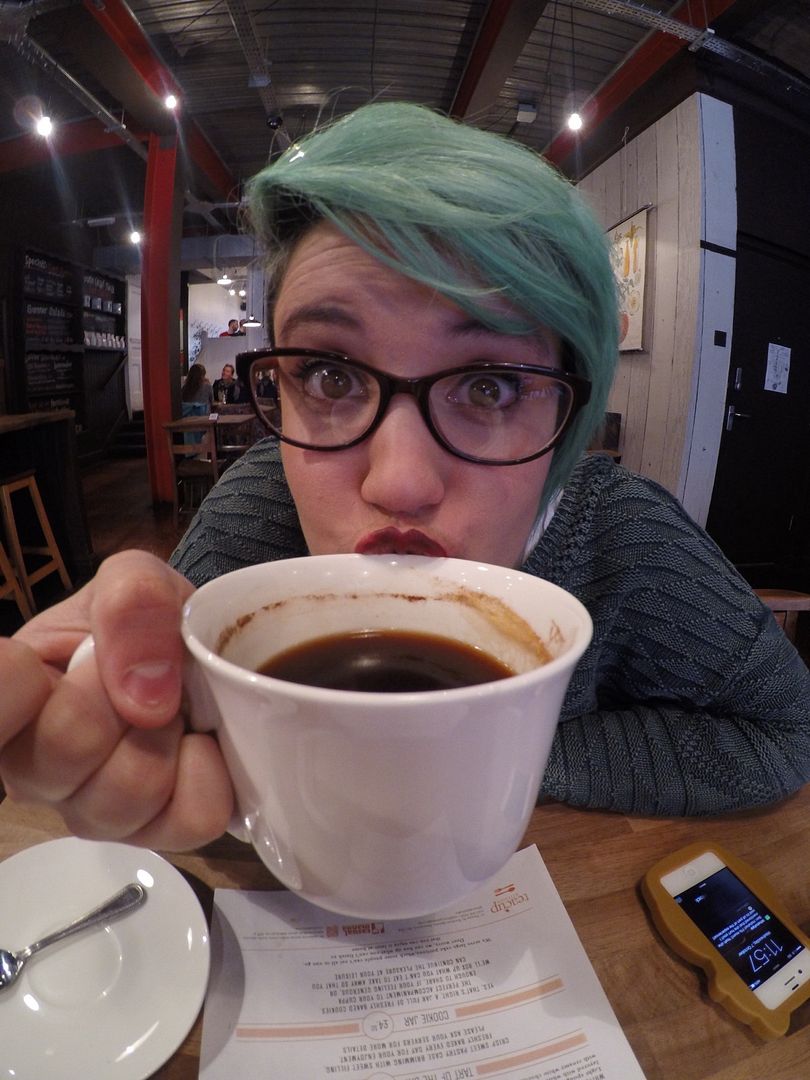 I would definitely recommend The Teacup Kitchen to anyone looking for a good cup of coffee and a huge slice of cake (seriously the slices are mahoosive!), the only thing I think it was lacking was a little more decoration/furniture, it felt a bit sparse. But the staff were lovely and friendly, and they gave us an extra slice of cake, which makes them winners in my book!