It seems that all the hiking and camping shops in my hometown are closing down, it sucks. Its great for my trip to New Zealand, because it means I can get all the things I want for cheap, but I hate that shops are closing down left right and centre. The last few weeks I've managed to get a good little pile of things to take to NZ with me.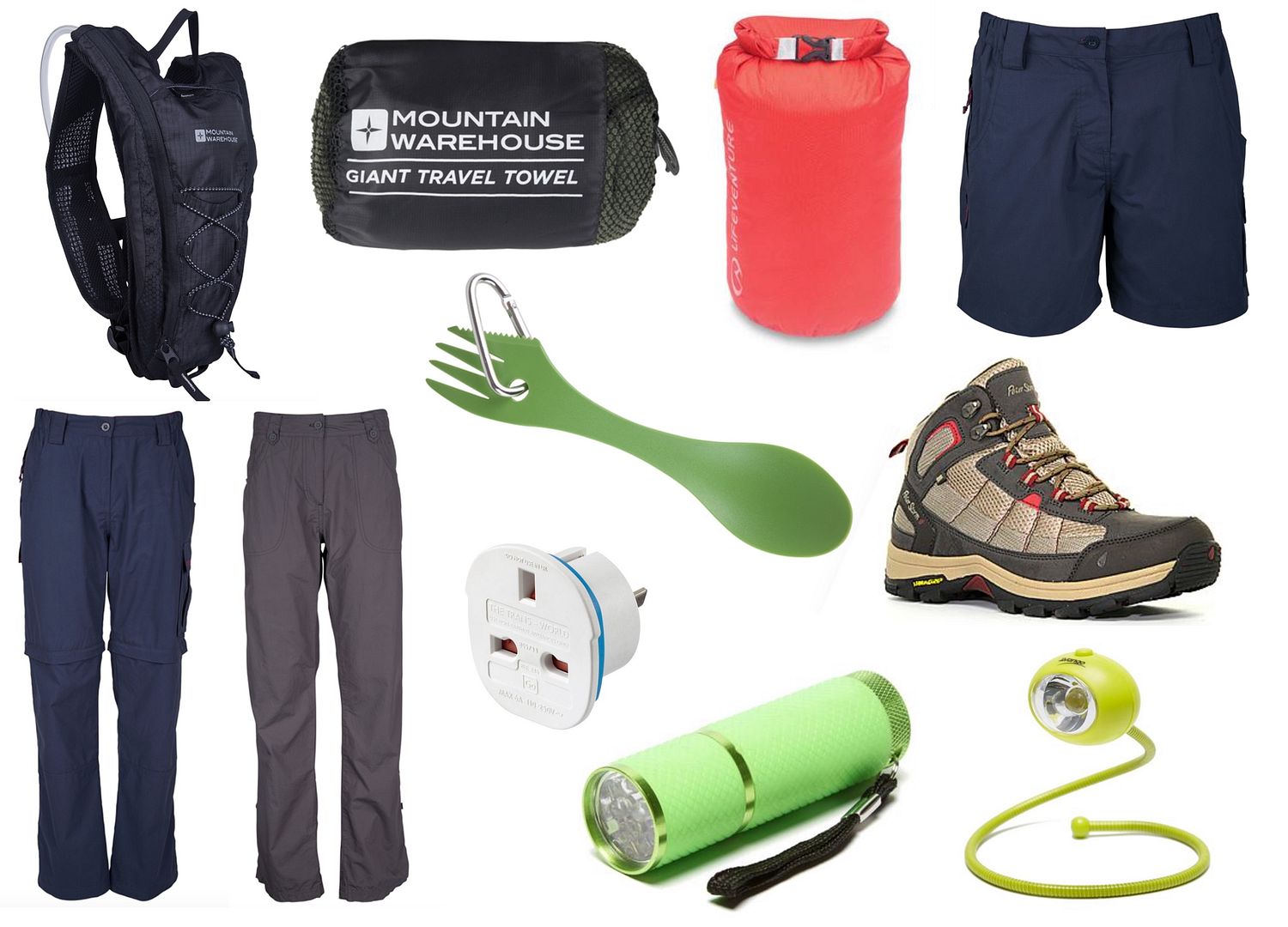 Hydro Bag
Giant Micro Towel
Shorts
Trek Convertible Trousers
Trousers
Spork
Dry Bag
Peter Storm Walking Boots
Torch
Eye Light
Adapter
I managed to get some new boots which are awesome! My old ones are a little worse for wear and really heavy, these new ones are really comfy, light and breathable, perfect for hiking those New Zealand Mountains.
I also got some hiking shorts and trousers, and some of those zip off short/trouser things. I don't want to take too much with me as ill be carrying it with me for a whole year, so buying hiking clothes seemed like the best option. They are super comfy, and look pretty good with also being practical (how grown up of me)
I managed to save a ton of money on a bag because a family member has lent me hers to take with me, so I thought id buy myself a hydro bag for hiking up the mountains. Its so stupid but i've always wanted one, but never done any 'serious' hiking to warrant getting one, but it was cheap and I thought it would come in handy.
I was told to get a giant micro towel because they're super easy to dry and dry yourself with and they pack up really small for travelling too. They came in really boring colours so I got a green one, Pink would of been preferable, but I suppose this one won't show up dirt so much haha!
I got some little accessories too like a spork, a little torch, a book light with a really cool flexible 'arm' which will attach to anything, a dry bag to put all my valuables in when we go caving/kayaking/swimming etc and a NZ/USA/Canada plug adapter.
Theres still a few things that I want to get like a fanny pack/bum bag and a first aid kit, a nice journal to write in and things like that. I haven't really thought much about anything else I want to take with me, but I'm slowly piling things in the corner of my room so I keep things separate. It'll be summer when I go, so as it gets to winter here I'm putting my summer clothes that I want to take but not going to wear again in the pile. I still need to pay for the rest of my flights but I've got my VISA and my bus pass so thats a start! I cant believe how fast time is flying by, I'm getting slightly nervous now, but my excitement is definitely winning out! As ever, please please please comment, email if you have any suggestions and tips!
Toodles xox