'Even the darkest night will end and the sun will rise'
I've done an outfit post and I love it! I've missed dressing up and taking pictures, but now its all sunny and finally summery, its been much easier to get out and take some pics. My America twin and bestie Lori, who blogs over at
Urban Wilderness
, has started the most perfect style challenge on Instagram, which has given me the perfect excuse to make some effort once a week and get out of my work clothes or pyjamas. I missed the first week but I was all over week two, festival style...hell yeah! It's a great idea, she picks a style/theme each week and you have to recreate it with your own style/spin/inspiration. This weeks one is Jurassic Park themed, which is
awesome!
I loved this Festival style one though. I had bought the crop top and kimono a few weeks before, and this was the first time I had worn them.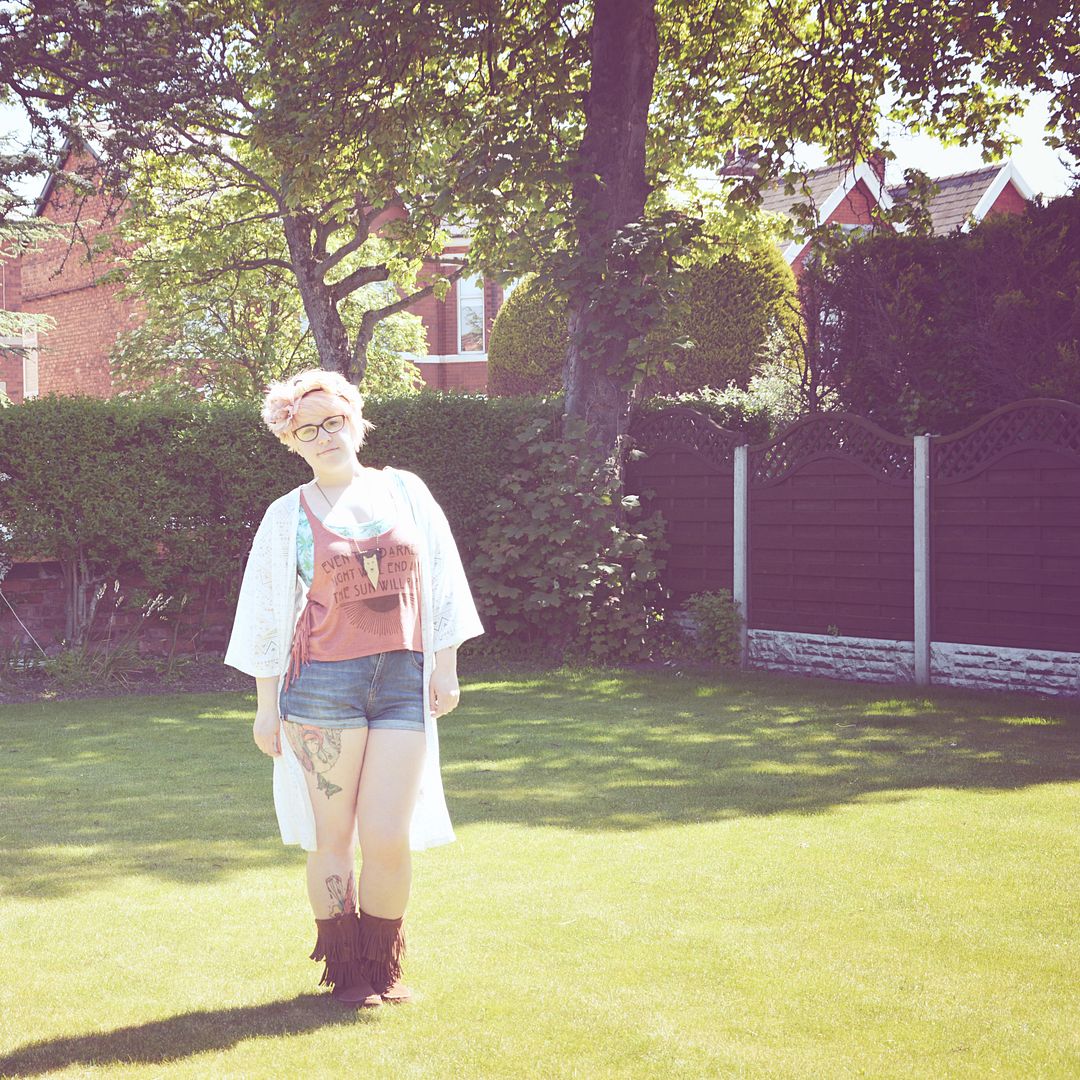 Flower Crown::Urban Outfitters // Necklace::Me&You // Crop Top::TKMaxx // Vest Crop::Forever 21 // Kimono::H&M // Shorts::Republic // Boot::Minnetonka
The past week I've started going the gym more. I didn't like my legs in these pictures and its spurred me on to get things toned up and less lumpy haha! I've also decided to try the
BooTea
detox thing. If
Thrive
was cheaper and more accessible in the UK id be all over it, but after looking in to the BooTea I've decided to give it a go. Its basically a Tea detox. You have one drink in the morning and one at night, and it flushes all the gross toxins out of your body, obviously coupled with healthy eating and exercise its supposed to be really good for you and help you loose weight healthily. You can get all sorts of other stuff with it too like shakes and vitamins and things, but I think I'm just going to start with the tea. I've really enjoyed going the gym. Today I did 20 minuets on the cross trainer whilst watching Digimon haha! Tomorrow I'm going to give the gym a miss and just do a bit of swimming and test out my new costume.
The weather has been so nice this past week, hopefully it will stay nice for my day off on Thursday and I can get this weeks Style Challenge shot. If you fancy following along with the challenge just look on urban_wilderness page to see the challenge then just use #urbanwildstylechallenge with your pics so we can all see your inspiration.
Peace out xx