Hey lovely people! So i'm super super excited to be writing this right now, for two reasons. It's May which means its my birthday soon (woop woop) and I'm also doing my first giveaway! I've thought for a while now that I would like to do a giveaway for my birthday, and I decided to get in contact with the lovely people at Qwertee to see if we couldn't wrangle something together. I
love
Qwertee so I thought it only right to give my readers a product that I feel passionate about, I seriously can not stop buying t-shirts! I love that it's fans creating fan t-shirts, that people can literally upload a design and if it gets enough votes it gets printed! The possibilities are endless! I bought one the other week which was Harry Potter and Pokemon...only on Qwertee can you find that level of geek. I find it really hard to find good 'official' clothing in the things that I love, so finding Qwertee was like the best thing ever. I knew it was for me because I have searched for years for a good Stargate tee and then they printed one! Hells. Yes.
So to give you all a little taste of what Qwertee has to offer I thought I'd show you how I wear some of my tee's through out this month. I love that I can still look girly and wear my more 'dressed up' clothes and still get my geek on. Here I'm wearing a variety of sizes from woman's medium to men's small. I'v found that they do run a little small, I'm a UK 12 and usually buy a medium in clothes but after buying a few mediums and feeling a little tight, I tried a large and it fit perfectly and the men's small was pretty good too.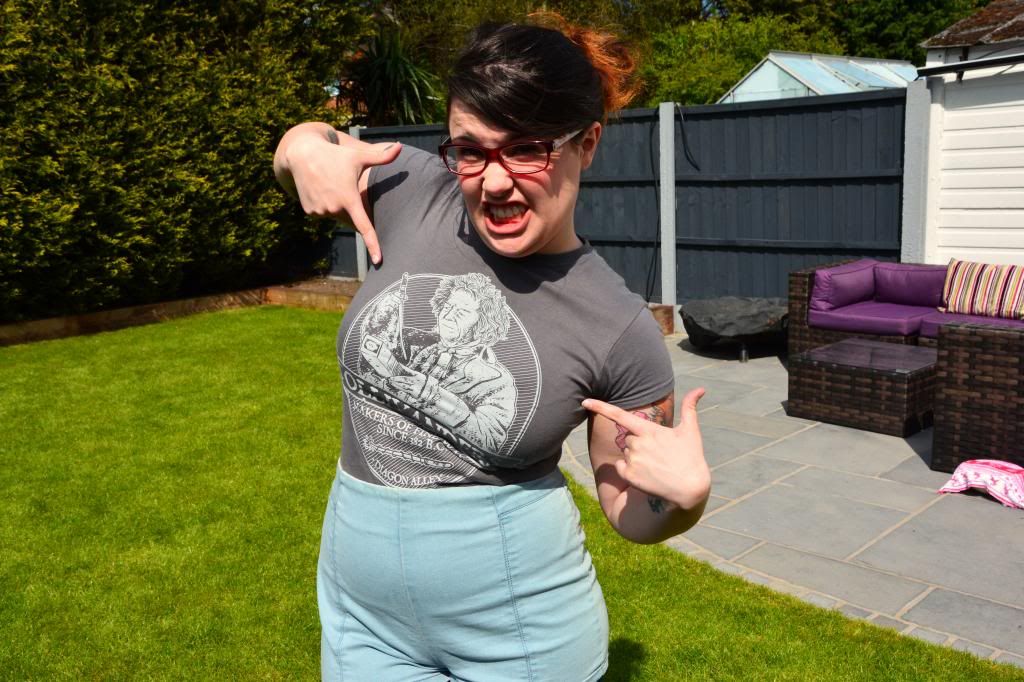 If you don't know how Qwertee works here's a little run down. Every day Qwertee has a new tee for sale which lasts for 48 hours. For the first 24 hours its £8 and the second 24 hours its £10. After that 48 is over the tee is gone and you can't get it again. Sometimes there are two on sale at a time and some times there are re-prints (which is how I got this last one after I lost the first in a house fire!!) So here's the giveaway...
I'm offering
2 readers 2 tee's each.
All you have to do is follow this blog and then leave a comment saying what your ideal geek tee would be! Remember to leave an email adress so I can contact you if you win! Also, if you follow, comment, like or share Qwertee on any social media (ie: facebook, twitter, pinterest) you automatically get entered into their free tee prize draw, so you could get lucky again! The giveaway will last for the month of May from the 1st to the 31st. The winners will be announced on the blog and emailed, if there is no reply in 3 days other winners will be
chosen. Again it's 2 winners getting 2 tee's each. Prize will be given in gift card form so the winner can choose the t-shirt they want when they want.
I'm so excited to see how this pans out and to make it even more amazing Qwertee is giving my readers the chance to save some cash with the discount code '

DearWilderness' for 50p off any order for the whole of May! Good Luck!