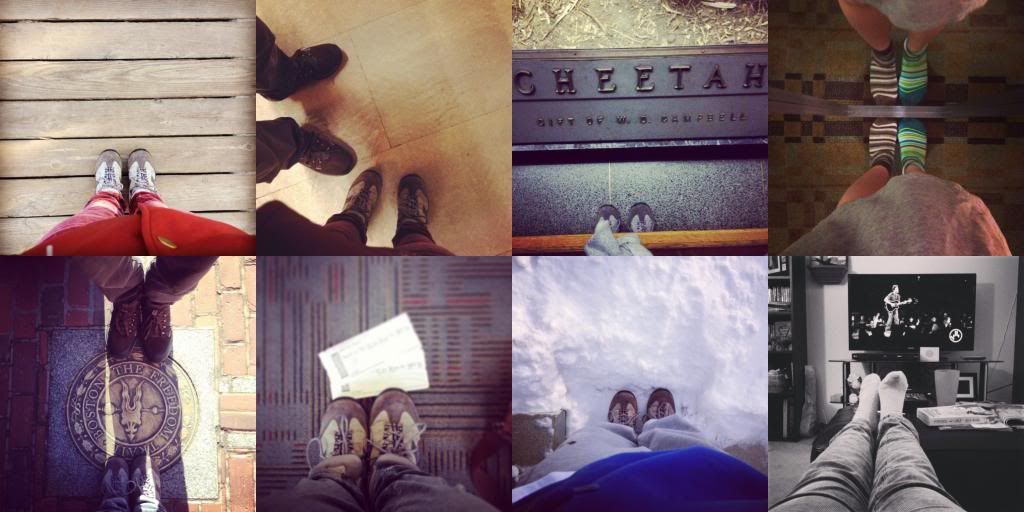 If any of you follow me on
Instagram
you will of seen that I started a hashtag at the start of the year, #fromwhereistand. I really wanted to take a picture everyday of the year, but it not be anything too demanding, and seen as I have my phone on me all the time and my feet are attached to me I thought feet pictures were a pretty safe bet. I haven't managed to get a picture every day but its pretty close! It was fun to start the year of in America and document all that happened there, and it will help me to remember everything when I start to forget. If you do something like this on Instagram I'd love to take a look at where you've been!!
From top to bottom, left to right:
In the Chicago Apartment//Out walking in St Charles//Chicago Science Museum//Photo shoot in Chicago//Standing on the fire wreckage//Waiting in Chicago Airport//In the New York Apartment//Dead Christmas trees in NewYork//Walking in Central Park//In Grand Central Station//In the Natural History Museum//In the Boston hotel room//Walking round Boston//Missed our connecting flight to Minneapolis//Back in St Paul//Watching movies at Loris'//Frozen Lake Kite show//Goodbye Minnesota//Nashville photo shoot//In the Nashville Hotel//Watching movies in bed with T//A well needed stop after a full days coach journeys//Back in Corbin//Chilling out with the Kentucky family//Sorting through all our luggage//Fabric shopping//Redbox Day//Visiting a frozen Cumberland Falls
Today is a very lazy Sunday, watching films and packing Ebay things to be sent off to new homes. Do you even have a clear out of your stuff and feel great about getting rid of loads of things, then when you sell them regret selling them at all?! T is coming round to watch the Oscars tonight, we do love a good awards show.Then he's off tomorrow, so hopefully the weather will be okay so we can do something fun! Hope you had a happy weekend!!