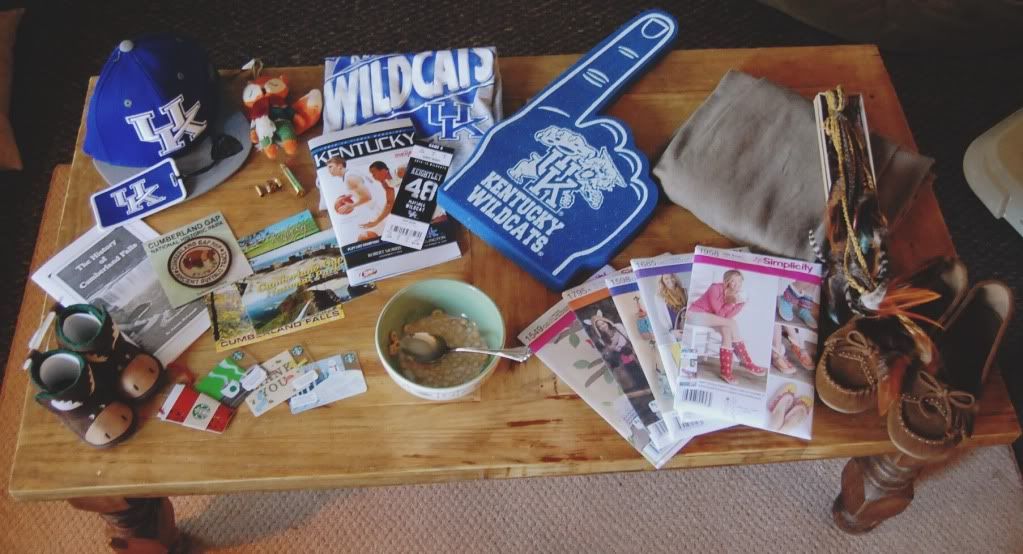 I haven't really done much shopping while here in Kentucky. There are a ton of things that I want to get but I'm going to so many great places in text two months that I'm sort of saving my money, and since I'm coming back here for a week in January, any money I have spare can go on things in Kentucky. But I thought I'd take some pictures of the stuff I have bought to show ya'll. I love them all and I love that they will forever have great memories attached to them. (Also my breakfast is in there just so ya'll know I had Cheerios, that's important information right there.)
1// A UK Wildcats basketball hat. I might never wear this, but I thought it looked kinda cool, and I think me and T are gonna have a hat collection when we get our own place, so this is my contribution. 2// A UK luggage tag. I've decided to get a sew-on patch from all the cool places I go to put on my travel bag. This was the closest thing I could find for UK Basketball so I'm going to try and sew it on, if not I'll just use it as a tag. 3// A fox Christmas tree decoration. How could I not get this?! It's a fox in a Christmas jumper and scarf! Hopefully the people Im with for Christmas will let me hang this little fella on the tree. 4// Not anything bought, but here are the shells I shot from my evening at the shooting range. Apparently it's tradition to keep your first.
5// The most cutest little moose booties for Baby Max. 6// My Cumberland Gap patch and a little 'history of' book. 7// Post cards from everywhere iv been. 8// The girls at Starbucks said I should get Starbucks cards from where ever I go. Iv only been to one Starbucks so far but I couldn't choose so I just grabbed them all! 9// My Wildcats t-shirt I wore to my first college Basketball game. 10// the program and tickets to the game. 11// My foam finger. T said I have to get a foam finger from ever game, so far I have two. The collection is growing!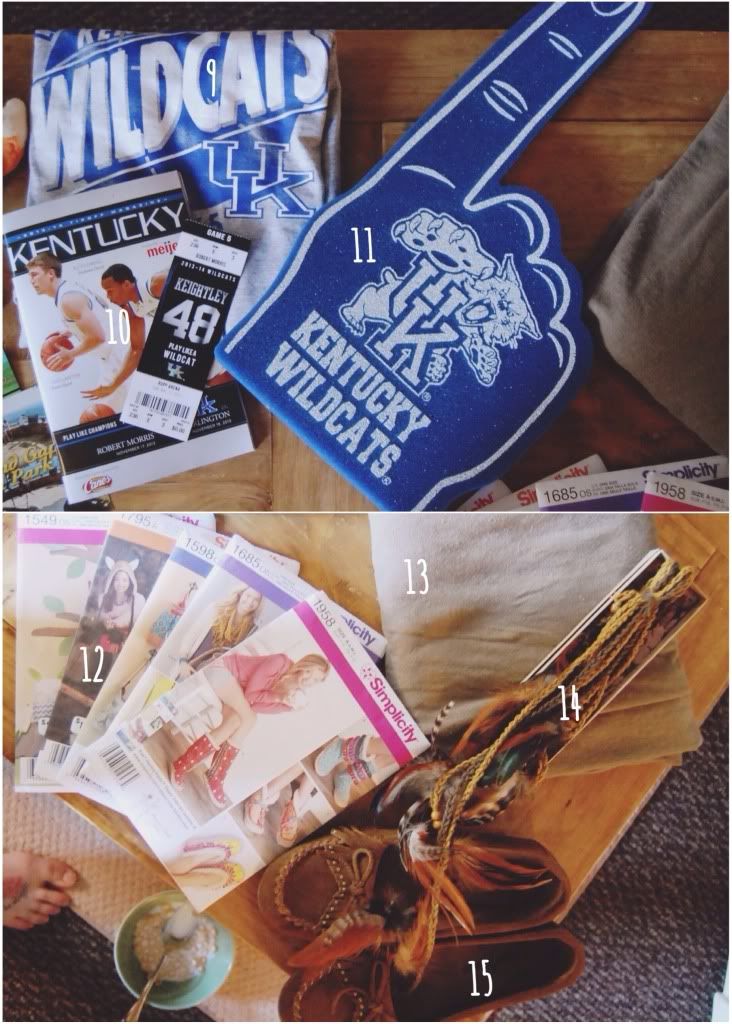 12// Sewing patterns! I love Veterans Day sales! We don't have them in the Uk so I kinda went to town. I bought a crap load of material and wool, these patterns were only $1 each! Bargain! 13// The best dress I have ever worn from
Run With The Tribe
. 14// The most amazing head piece ever by
Run With The Tribe
15// My Minnetonka Moccasins, these were a sale steal too.