Yesterday we took a drive to Cumberland Falls for a little hike around the waterfall. It was so hot and sunny, it was perfect. I loved driving though the Kentucky countryside, it's just so beautiful with all the mountains and the endless sea of trees. Most of the trees had lost their leaves but the ones that were left we a gorgeous red and orange colour that looked like rust, and when the sun shone through them they just set on fire. It was beautiful and I've never seen anything like it before. Iv always loved autumn, just because of the colours, but iv never seen it like this before. The English Autumn is so wet and damp it's mostly muddy brown and grey, I'm so happy that I got to Kentucky in time and didn't miss the change of the trees. I think is picture below is one of my favourite pictures iv ever taken. I have dreamed of seeing a view like this since I can remember. There is something really romantic about it, I can't put my finger on it, but it makes me feel really happy, like a memory but I'm not sure what of. I know that sounds so lame and stupid, but oh well. I think I'm going to get it printed and framed when I get back!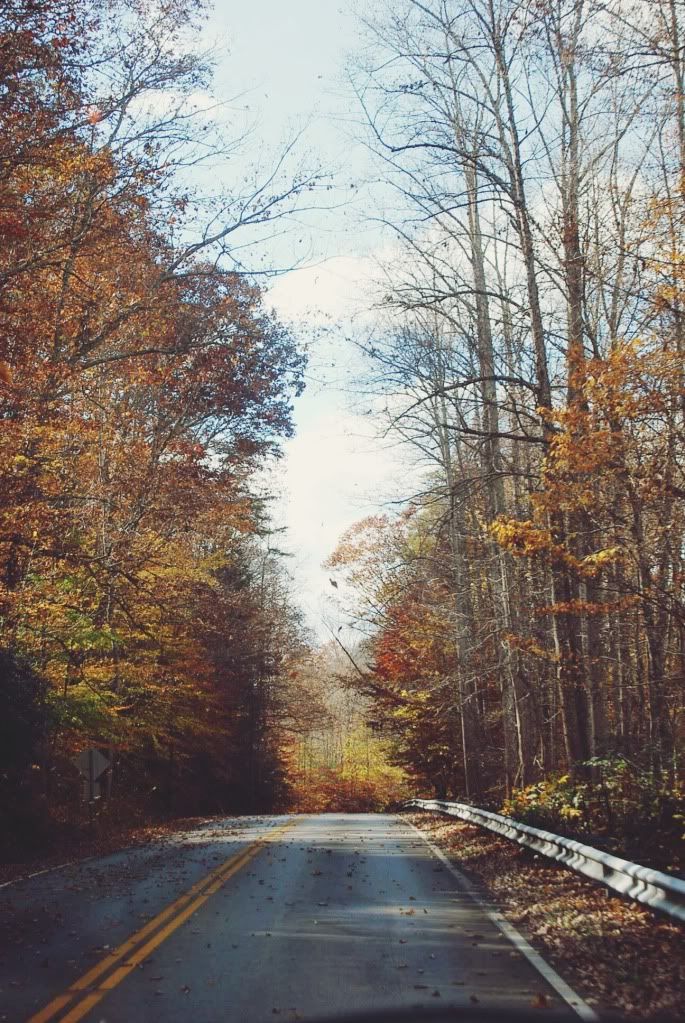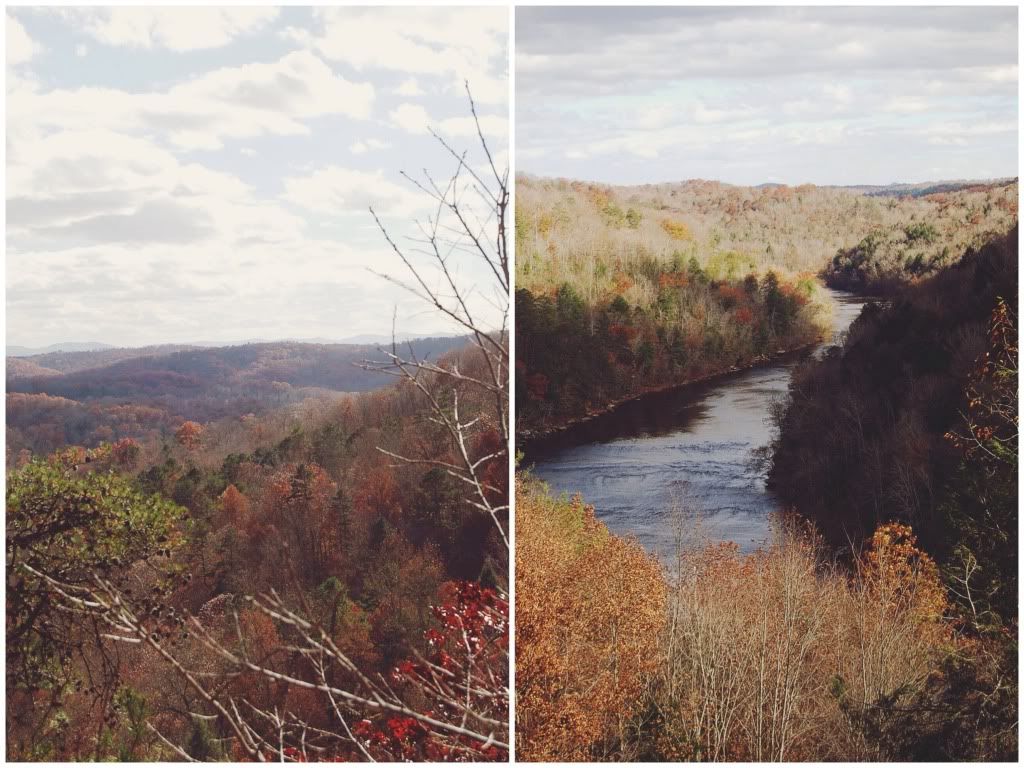 On the way to the Falls, we stopped over in lay-by which had a break in the trees, you could see for miles and miles, across all the tree tops right over to the mountains. It was stunning. It's really annoying becuase these photos I don't think do it justice at all, it was so beautiful. Marsee was telling me about how her sister got engaged there. There was a little stone wall with a bench looking out over the mountains, I couldn't imagine a more perfect place, especially in the Fall, with all those gorgeous colours around you and the leaves on the ground. There are seriously so many leaves! Not just in the State Parks but everywhere! We also stopped at a little over hang to take picture of the Cumberland River, before it gets to the Fall. It's huge! And it goes on for miles and miles and miles. I bought The History of Cumberland River guide from the gift shop and it's so interesting. I decided to buy something from every place I go to so I can remember it and hopefully learn something along the way, I hate not learning new things anymore.
My warm welcome from the local wildlife was to get stung by a wasp. Literally, we'd hardly stepped out the car and the little bugger got me right on the fore arm. I don't usually mind wasp, like I don't make a massive fuss when one comes near me, and up untill this year I hadn't been stung, but that's twice now this year! Good job I'm not allergic becuase there wasnt anyone around, but my arm did swell up a little bit and It was so itchy! I had to walk the rest of the Falls with a bottle of ice water pressed against the sting to help with the swelling. I didn't mind though, the Falls were beautiful! There is something so soothing about the sound of a waterfall, I could just sit and watch it all day. The water level was pretty low, so the top half of the Falls was quite calm, usually it's sort of white rapid-y, but it was nice becuase we got to go right up close and walk down on the flat rocks near the water edge. Masen went coal picking throughout the rocks, and we found a massive chunk of coal about the size of motorbike, I don't really know why there was coal there, I'll have to read my History guide!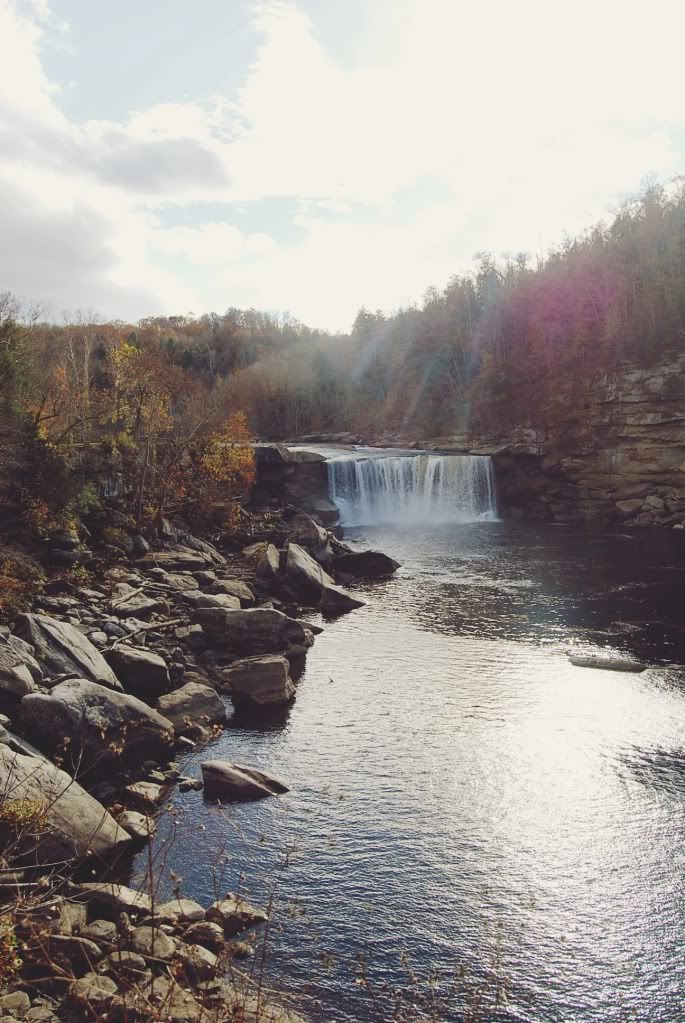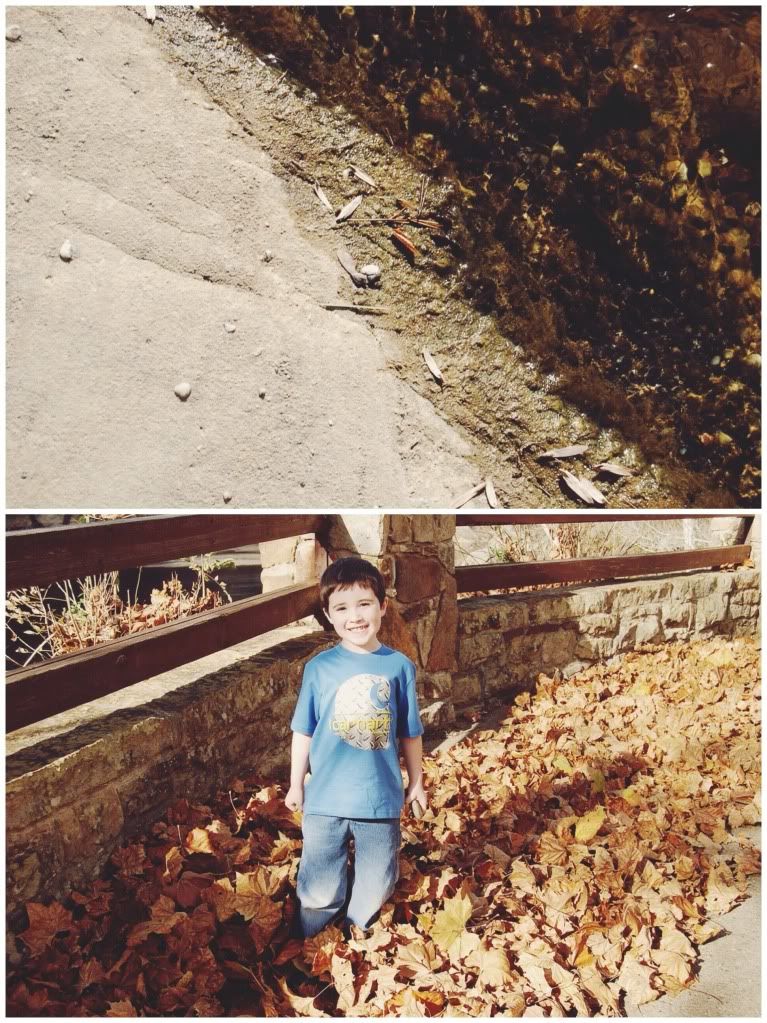 A bit further down, once you get past the actuall waterfall part, there's a little beach that we walked along. It was one of those times when I wished with my whole heart that I lived in America becuase there were huge huge piles of drift wood and felled wood. I have so many craft ideas that included that type of wood, and we just don't get it like that in England. It wa so painful to walk past it all and just leave it lying there. The cliffs across from the beach were amazing. I love to think about how the early people who lived here thousands of years ago, would of seen the same cliffs and how they would of used them as shelters and things. We actually did the hike over those cliffs today, and they are even more amazing up close (ill do a post about them tomorrow). So Cumberland Falls was amazing! I know I haven't see a whole lot yet but this is probably one of my fav places ever now. I could of spent all day there just roaming the woods and all the different trails. I can't wait to take Tim there when were both in Kentucky in January. Hopefully there will be some sunny days so we can take a picnic and not freeze our butts off.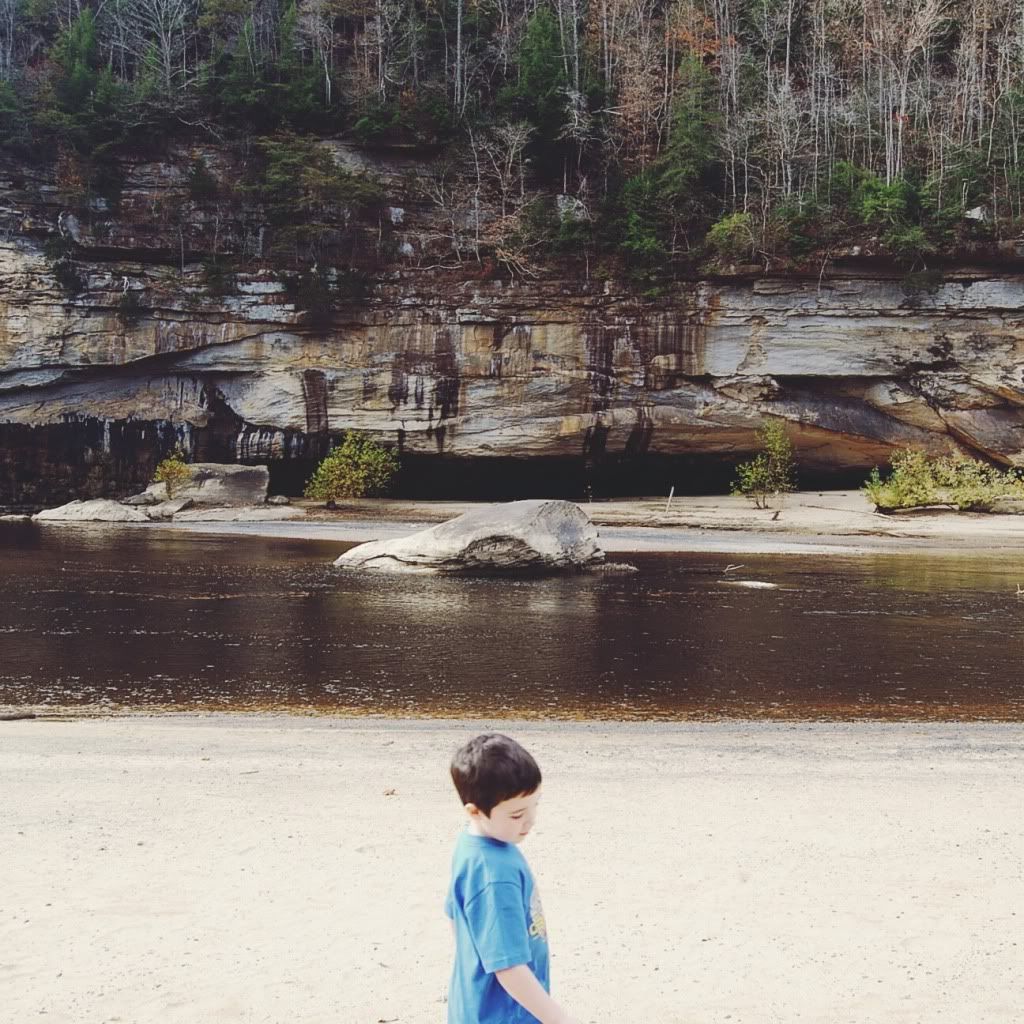 Have you ever been to Cumberland Falls? Do you have any favourite National or State Parks? I'd love to see if any are near where I'm traveling to and maybe I could visit some?