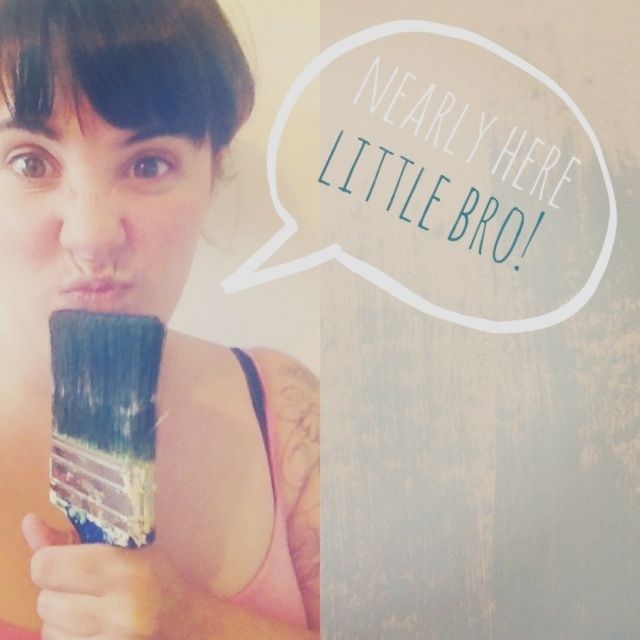 7 weeks. In 7 weeks there will be a new man in my life. In 7 weeks I will finally have what I've always wanted. In 7 weeks I will be a big sister. In 7 weeks I will have a little brother. In 7 weeks there will be another little person to add to our little family. In 7 weeks. Wow. 7 weeks. I can't even comprehend that there will be a real live person just...here. It's just mind boggling. And I'm not even having him! I can't imagine what it must feel like to a mother-to-be. But if its anything like the feelings a sister-to-be has, I can't wait! These last few months have flown by, but I am so ready for him to get here. I'm getting impatient now. I want to see him. I want to hold him and kiss him and stare at him for hours on end, I want to see his personality: see how load he can scream, what makes him laugh and do it all the time, what makes him cry and save him from it. I want to see who's nose he has and what colour his eyes are. Wether he has brown or black hair. I want to see his tinny little fingers and toes and his chubby little legs.
I always thought that posts like this were reserved for 'mummy bloggers' and I was looking forward to being a mummy blogger, but now I realise that there are 'sister bloggers' too (or maybe I just made that up so I can gush over the little fella), bloggers who can gush over there new born brothers and sister, and show everyone how much we adore them. Because I do adore him, I've seen him grow from a little dot to a full person with eyes and ears and nose and mouth and hands and feet (we had a 3D scan last week....so freaking weird! But totally awesome!) which is just AMAZING!
So with him so close to gracing us with his presence, we got some much needed decoration done. It was a miserable day outside, which was a great excuse to put on the scruffs and grab a paint brush. Dad and Sarah decided to do his room Duck Egg Blue (my favourite kind) and it looks so cute! It's a long way from finished but its coming along nicely and will look awesome when its finished. I'm doing a few D.I.Y's for various things and I've got some really awesome things to go in the room for Sarah's Baby Shower. I keep buying things and I can't stop. There are such cute baby things everywhere, I don't understand why something normal, just small, makes it so much better and cuter?!
So yeh, just 7 weeks left of life as I know it. I suppose I best make the most of it!