So this is my first time blogging properly from my phone, completely seperate and a million miles (well, a few feet) away from my laptop, on the new blogger app!! This may not seem that big a deal to some, but it's huge for me. Before I could only blog 'properly' on my laptop because you could never edit pictures on the blogger app, or I didn't know how to anyway. But now you can! And it will make this so much easier for when I go to America at the end of the year. Wahoo!! But that's not the real reason for this post, this post is to show off my amazing beautiful absolutely freakin awesome new tattoo! 
TADAAAAAH!!
How beautiful is that?! I got it done at The Liverpool Tattoo Convention at the Adelphi Hotel. It was amazing. I was so nervous about getting tattooed In front of thousands of people, all staring at me and watching me tryin to keep a brave face. But it was totally fine. I loved being around all like minded people and it actually didn't hurt that bad (only round the edges near my arm pit, jeeze tht killed!) I just love the tattoo community, it's just so down to earth, my tattooist was pointing out really famous tattooers And saying like 'oh yeh that's so-and-so's tattooist' like some one dead famous and just saying hey to them, it was really surreal. I wish I could of had more time to wander round and look at everyone, maybe scope out my next person to get my calves done :D I'm definitely going next year, if not as a model, just to have a mosey round, best get saving as there was so much I wanted to buy!!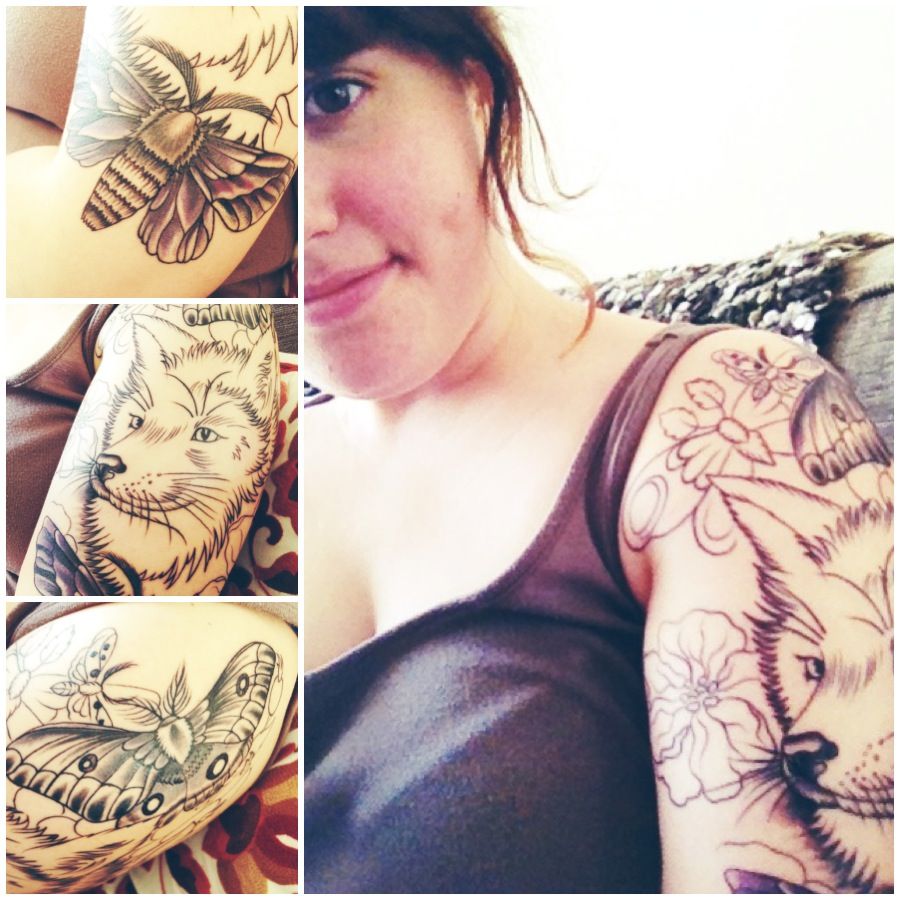 I am so In love with this piece it's unreal. I love the fox, he's cheeky little grin and his flirty eyes are going to get him into a lot of trouble I think. I can't
wait
to get this coloured and finished off, it's just going to be so amazing!! 
Today is my first day at work with it and I'm not looking forward to it. I'm going to cover it cling film so I don't accidentally knock the scab (eeew) off and it's super super warm in the shop so, fun times!