**Everything in this post is completely my opinion. I haven't been approached or contacted by people at The Simple Things nor have I been paid or get anything from writing this post. I just really enjoy and appreciate this magazine and think that you as my readers would enjoy it too**
In my last
post
I mentioned the new magazine that I have been reading called
The Simple Things
. It's the sister magazine to
Molly Makes
which I have only recently started reading as well. I love Molly Makes
(and I also get Making)
but I get a bit bored of all the craft stuff, don't get me wrong, I love to have all the craft inspiration/ideas/patterns but I like to have a bit more too. So when The Simple Things came out I thought I'd give it a go.
I. Love. It.
I love the whole aesthetics and the feel you get when reading it. Its such a beautiful magazine to look at and its so easily written, its a joy to read. The whole magazine is split into 4 parts a Dusk, Day, Dawn and a Miscellany section at the end. Its great because its not fancy, its not pretentious and it does exactly what it says on the tin, 'Celebrating The Things That Matter Most'.
There is only two issues available at the moment as it's a pretty new mag, but already I can see the amazing things I will discover by reading this magazine. To you American readers, this is an English publication so all the things to do and places it suggests going are in the UK, but that shouldn't stop you taking a peak because its packed with so much more. It has everything you could possibly want to enjoy each month the best you can from recipes, craft ideas, home decor and even nature tips like how to grow your own gardens and how to recognized different mushrooms!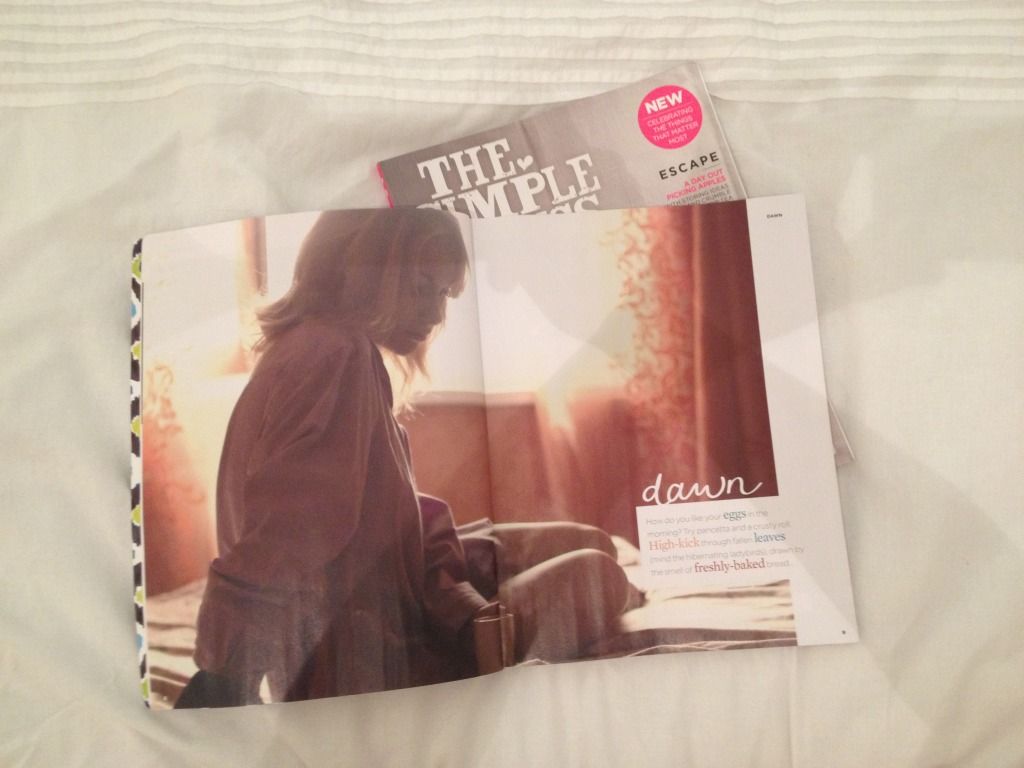 Another thing that is really striking about this magazine is the pictures. I love a magazine with good pictures. As a rule, if that pictures are crappy and generic, I don't buy it. I think half the inspiration is what you see in the picture. If you have a recipe, the first thing people look at is what it looks like. If its pictured poorly and look horrible you'll be less inclined to make it, and I want to make everything in this mag, even if I don't necessarily like whats in it!
I also love that the people who contribute to The Simple Things are ordinary people like you and me, and that's what makes it that little bit more special. There is this awesome feature
(that I might steal, with all credit to them of course!)
where they choose a blogger/artists/ect and do a Your-Day-In-Cups-Of-Tea and it is awesome! I drink a lot of tea, so its always cool to hear about other peoples tea drinking habits/partners/quirks and see their tea break photos. Also,
(I'm nearly finished I promise)
if you've heard of
Susannah Conway
you will know that she has written a book called 'This I Know: Notes On Unraveling The Heart'. I haven't read it yet, but its definitely on my list, well she has a little feature where each month she sets an 'Exercise' which is supposed to help you explore your creativity and see the world from another perspective. I can't wait to try it each month and share what I discover.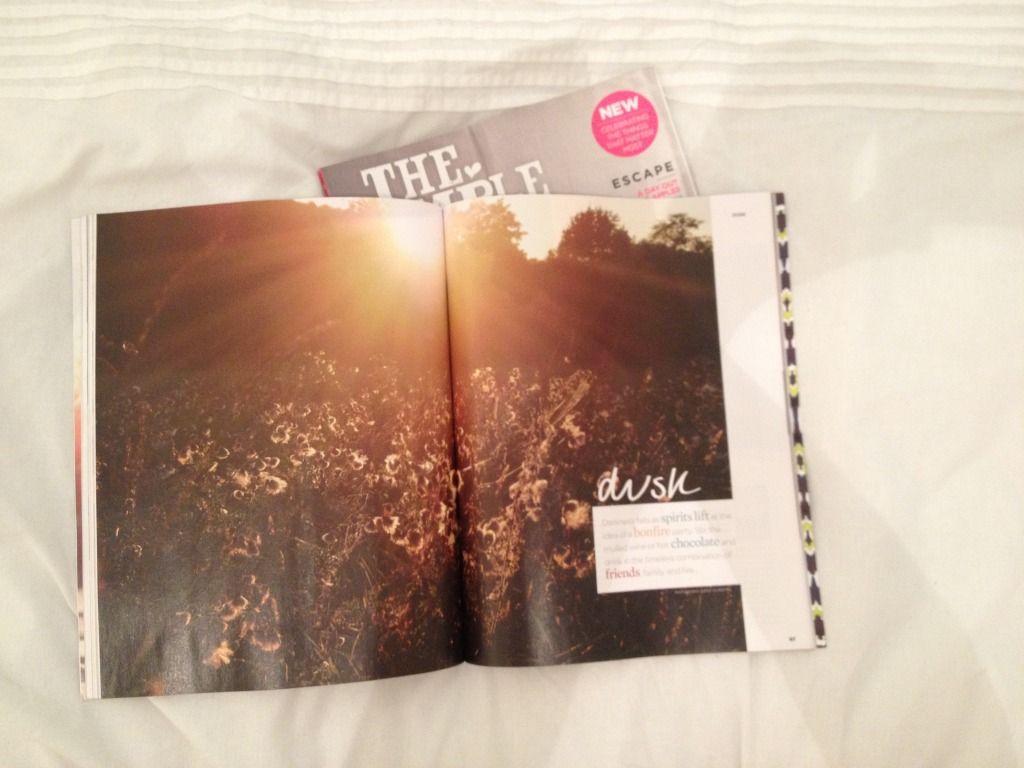 Last thing I promise! In each little section
(so far anyway)
there has been a recipe to try. I can't wait to try them all as they all look so delicious! I've had a stab at the breakfast in the first issue and I'll be sharing that with you later on in the week and I have plans to try the Chicken Pot Pie and Potato and Courgette Fritters out on my mum and Matt in the near future! Excited! So yeah! If you haven't got it yet, I love this magazine, and I think you all should all give it a go, I don't think you'll be disappointed! I can't wait for issue three to come out but for now, I cant wait for November to role on round so I can try the bonfire side treats, Pink Peppercorn Hot Chocolate and go Mushroom spotting!