At the beginning of this week mum and I went to Liverpool for a little mother daughter date. It was really lovely to just hang out and spend some quality time together. Ever since I started my job I've been spending less and less 'real' time with my family and it sucks. I miss them loads and I miss having spare time to just meet up when ever we feel like it. We started of in Starbucks
(shamelessly taking advantage of my partner discount)
I introduced mum to the wonders of whipped cream on a latte. If you haven't already, try it!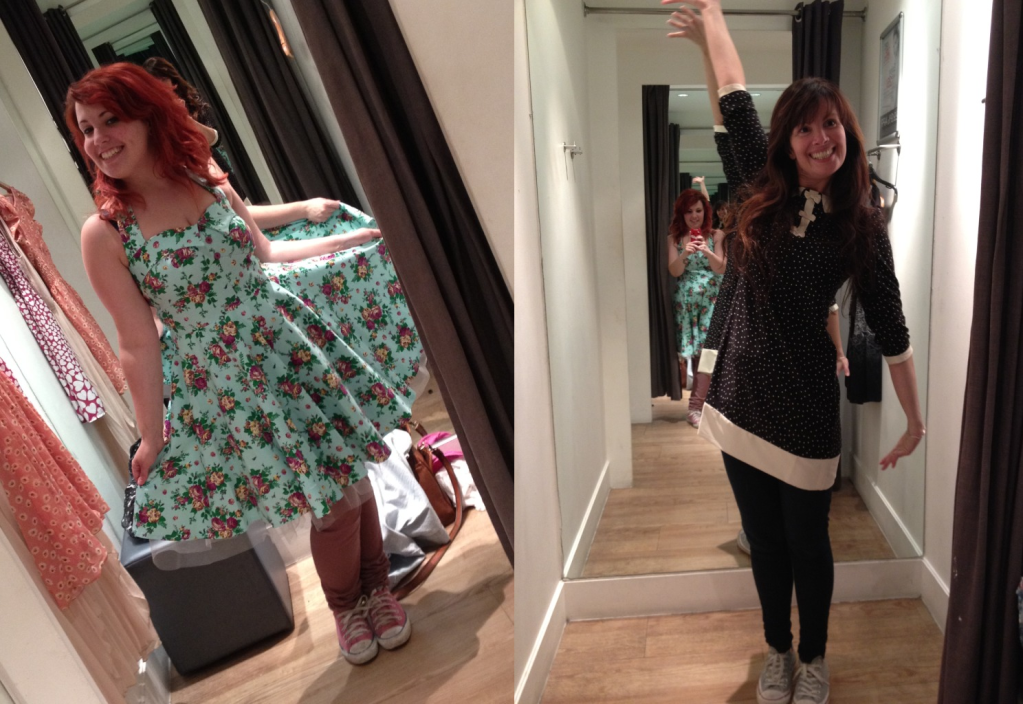 Of course no mother daughter date of ours would be complete without trying on clothes. I really liked this blue floral 50's dress from Dorothy Perkins. I didn't buy it though, there was something about it that was making me hold back, I might still get it though. We shall see. It did look great and fit snug as a bug. This little boutique was awesome! It was organized in colours and had some pretty cool vintage pieces. I wanted to look around some more but mums not really into vintage so I might have to go back and browse myself.
This dress is awesome! It will be mine, because basically it was made for me. It is just lovely, the fit is amazing, the colour and the material is beautiful. I would of got it this dat but mum didn't have her student card on her and I got to get me some discount!! Also this is Poppy
(my I-Phone's name)
new fox coat. Isn't it so cute!? I cant stop showing everyone and showing it off haha!
We went for dinner at the Gourmet Burger Kitchen. I love it there and I had the most amazing burger ever. It was just so yummy! We also had Oreo milkshake which I could feel the fat setting on my hips but it was so worth it. It. Was. Huge.
It was a great day and I hope that it isn't too long till the next one!! I need to go back and get my dress!! Hope you all have a great weekend and have lots of fun :) I'm working all weekend which kinda sucks but I'm just thinking of the money and all the dresses and tattoo's I can buy :) Love ya'll!