What's In Your Handbag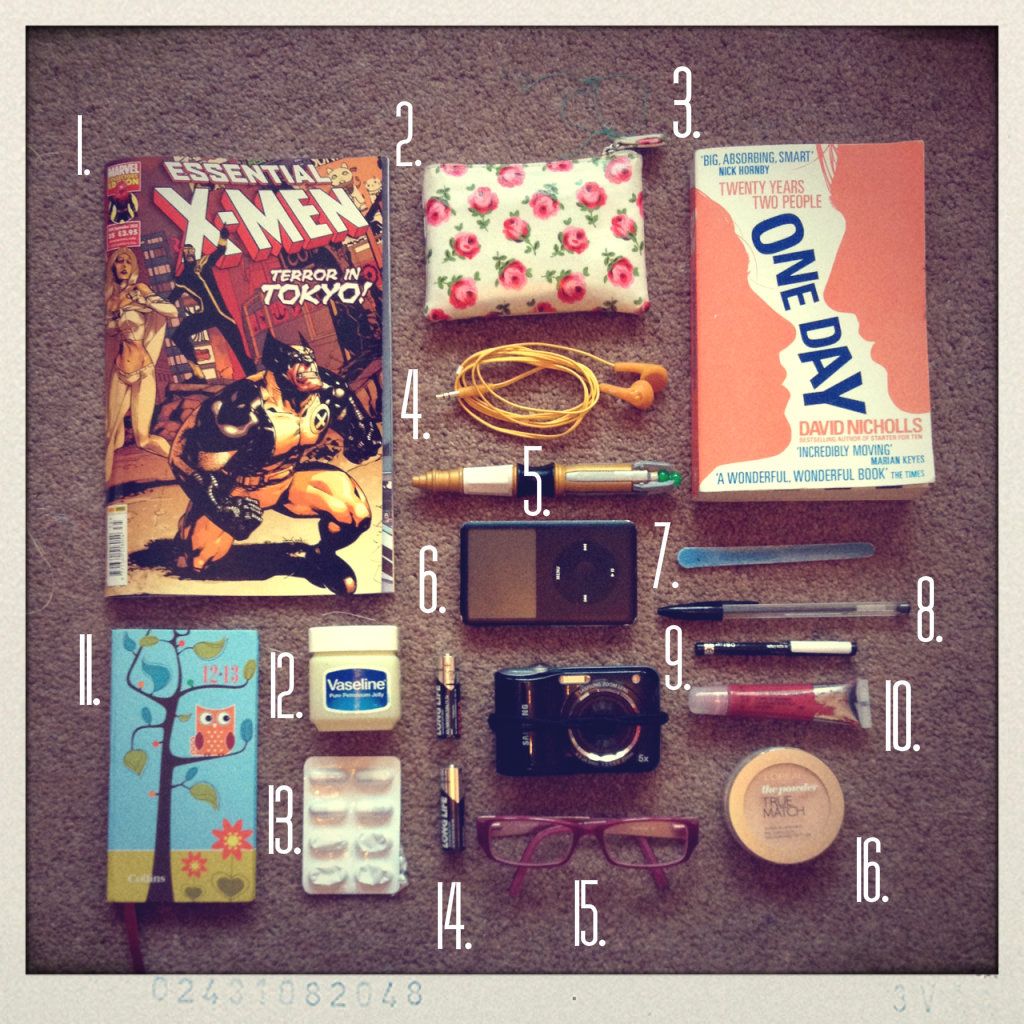 I am known for the collection of massive bags that I have. I just don't see the point in having a tiny bag that fits nothing in it?! Maybe because I carry the whole house, including the kitchen sink around with me, but I like to be prepared. This is actaully quite tame to what is usually in my bag because I've been working a lot so haven't needed my usual kit. But here is a little run down of what's in it at the moment:
The latest Essentials X-Men comic. I read about 6 comics over all so I'm pretty much never without the latest issue. They recently canceled my Star Wars Galaxy's comic which I'm totally bummed about, but I just recently started a Batman: Dark Night comic from issue one which I'm excited about, so I suppose its okay.
My purse. I have quite a few purses and like to circulate them, but I've been stuck on this Cath Kidson one for a while now. I love that its small and compact but it fits a hell of a lot of stuff in, and it has a cool little pocket on the front with a clear plastic so I can have my I.D with out rooting around inside for it. The only problem its so small in my huge bags that it gets lost...maybe another Cath Kidson, but bigger, would work...
A book, I am never without a book. I have a travel/bag book which is separate to my normal books. It's usually one that I've read before, or I know isn't my usual choice but wanted to read it anyway, just because I know that if I get really into it I'll never do anything I want to do and I'll spend my whole sitting in coffee shops a reading.
Earphones. Well....to listen to music. Obviously.
A sonic screw driver. Yes...I'm the Doctor.
My trust I-Pod! Boris is so battered I could really do with retiring him, but he's a trooper and keeps on going.
A nail file, in the vain attempt at letting my nails grow this was a life saver. I hang on to it in hopes that one day I'll have lovely long nails again!
A black Bic. It has to be black and it has to be Bic. This is my most favoritest pen ever and if anyone ever was stuck on what to get me as a present...a big box of Bic's would do nicely. Seriously. I'm not even kidding.
Eye liner, for when I need a little sumthin sumthin for the eyes
Lip gloss, for when I need a little sumthin sumthin for the lips.
My diary! I'm a little hit and miss as to whether I use my diary but I'm in a hit stage, so I'm constantly looking at it. It's really cool because on one side of the page is the days and then the other side has a 'notes' area, so I use the 'notes' bit for my blog calender. Saves me buying a second diary!
Vaseline, its so warm in work that I get really dry lips

(note to self, buy hand cream)

Pain killers, an essential! I suffer from migraines so these are literally a life saver in some situations.
Batteries. Yes I have one of those stupid digi cameras that uses batteries. It's great because if that battery runs out you can just go get some more but it also costs a bomb
Glasses.
Foundation, for when I need a little....you get the idea
I seem to have forgotten to number the camera but I'm gonna go ahead and guess that by looking at it you guessed I carry a camera round with me. I usually carry a sketch book, note pad, sewing kit, deodorant and a million recites around too. Also on some days you will find and extra pair of shoes and a apron
(on work days)
And also not shown is my phone, I used it to take the photo.
So yeh. That's whats in my bag :) I really wish I was using my Star Wars bag this month but I'm not...so maybe I'll do another one next month and I can show it you then!