The other day mum and I went to the beach to take some outfit posts for a guest post that I'm doing
(coming soon)
We shot a lot more than I realised, or needed, so I thought I'd get an outfit post and some other posts out of it too. I really liked the way these photos came out so I'm sure I'll be using them a lot for various things around the blog. I love this dress! I think it might be the best dress I've ever bought. I love the colours, I love the style, the fit, the cut, it's just brilliant. I wish that there were more in this style because I would by them all!
I know it doesn't really show in this post, but recently I've been giving the BoHo look a go, and I got to say I'm loving it. I've been putting feather in my hair and wraping/braiding with all kinds of ribbon and things, I love that you permanently have something in your hair, so even if you don't feel like doing a fancy hair do you still have something to make it a bit special and pretty. I have since dyed my hair back to bright red since these were taken so I don't feel as boring haha! The only problem is, things like that only really suit the BoHo look, so with this cutesie kinda look, it doesn't go so well...oh well, not like I mind! I've styled worse!
When we took these photo's it was super windy! Pretty much every other photo was a shot off my skirt blowing up and a nice view of my ass. I was so tempted to put one of them up because me and my mum spent so long laughing at them, I suppose that could be my sort of 'jumping' photo that people do at the end...ass shots from windy weather? What do you guys thing? haha...jokes! But seriously...you can see from my hair that it was crazy windy, luckily there was hardly anyone around although I'm pretty sure I saw one or two cars taking a peep.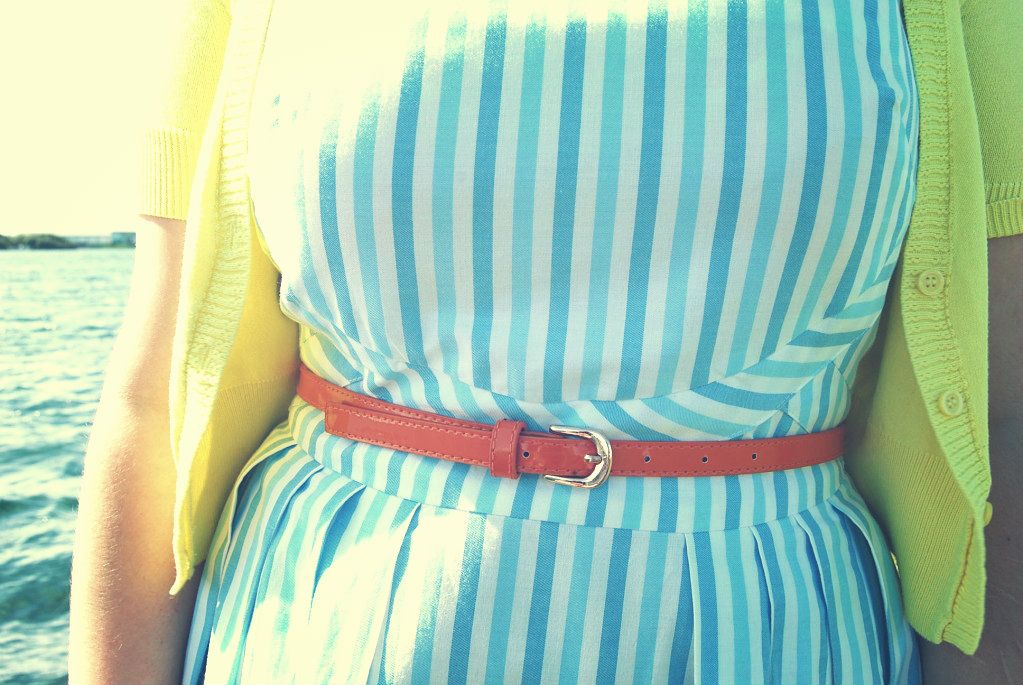 What I Wore: Cardigan-New Look//Dress-Oasis//Belt-Miss Selfridges//Wedges-Next
I'll be along soon with a behind the scenes post
(Might throw an ass shot in there just for fun)
because me and mum had such a laugh and a really nice day, I'd love to share some pics of that too. I have a day off today, woop! I think I might start making some things as I've been itching to get back on the sewing machine now I've got my room all sorted, so sewing and singing loudly to Taylor Swift I thinks! Have a great Friday and look out for Day 4 of the 31 Day Blog Challenge this weekend. Love ya'll!!