I know I said that yesterday would be my last post but I stupidly forgot that I could schedule posts
(i know, I'm an idiot sometimes) S
o right about now I'll be in the car on the way to Strafford Upon Avon for the first little bit of our trip. We decided to go down a day early so we don't have to leave super early and probably miss most of practice on Friday. So yeh...exciting times!!
On Friday last week I went shopping with my Nana and pretty much every shop was 50% or more off! There were so many pretty dresses and I was wishing so bad that I was a millionaire or had one the lottery. My family are always joking that I have expensive taste, I can go into a shop not look at any price tags but without a doubt my favorite thing will be the most expensive! With this in mind I try to stay away from the
really
expensive shops like Warehouse and Oasis, but this was not one of those days. Well with a 70% off sale would you? These three dresses where my favorite. The one above isn't something I would usually go for, but I loved it! The colors and the pleated skirt are adorable. Unfortunately either my bust was too big or it wasn't sewn completely right because the neck just wouldn't sit right :/ But I shall be on the look out for one similar with a different neck line because I love this style!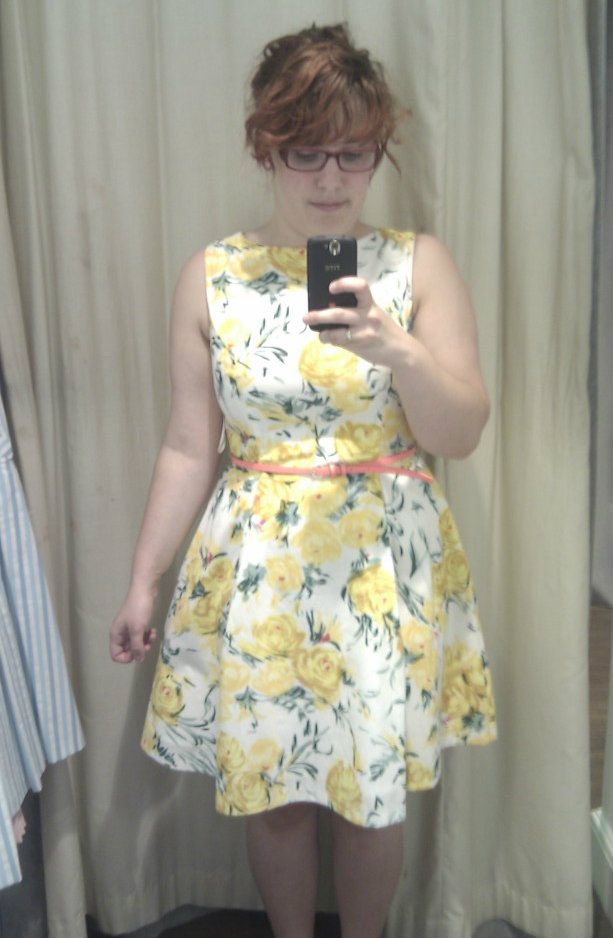 I saw this yellow beauty in spring and I wanted it
soo
badly!
(from this post)
But at £85 it was just a million pounds out my price range. I didn't even try it on because I knew I wouldn't want to take it off. Maybe I should of because then my disappointment would of ended then. I was so excited when I saw it in the sale, I was just gonna get it without trying it on but I'm glad I did because the top was entirely too long for me!
(curse my tiny top!)
The back has this beautiful strap detail going on but it was all gappy and loose :( So annoyed.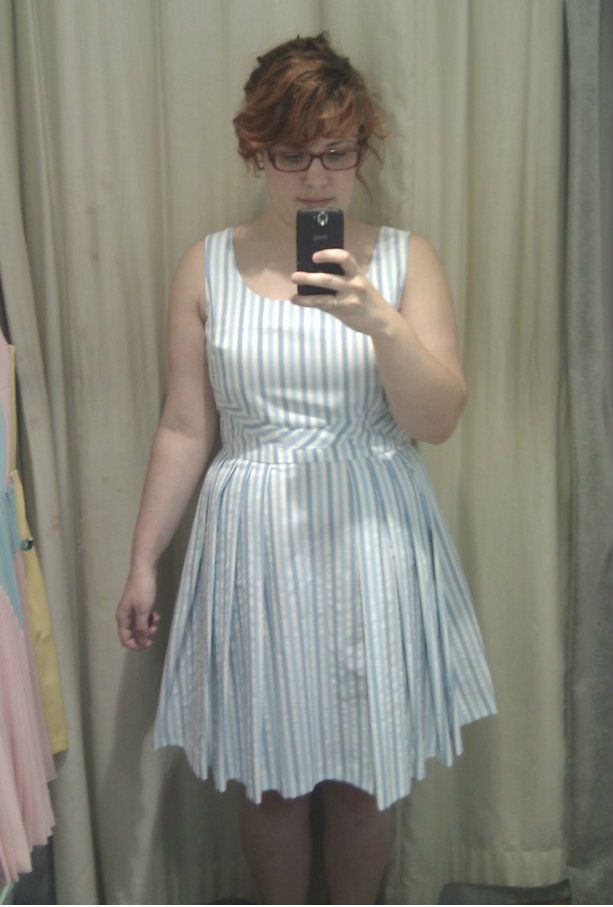 But lucky for me I also had my eye on this back in the spring and it fit beautifully and is now a happy new resident to my wardrobe! I LOVE this dress. Unfortunately it's quite thick and a little uncomfortable in the humid weather, but I'm sure it well get wore more than enough in the autumn! I feel like I should be at a carnival when I wear it though haha! I really like taking photo's in the dressing room, I like to be able to try on clothes and see what suits me and then be able to come away and remember what it looked like and try to either replicate it with existing clothes or find a cheaper option. And it's also fun to do little posts like this :)
I hope your all having a great week and looking forward to the weekend as much as I am. Hopefully it's not raining so I can say now that I'm having a lovely time walking around Stratfford Upon Avon and looking at all the beautiful scenery, otherwise I'll probably be sat in a coffee shop with dad moaning about the weather :P