I don't know if any of you know about the
Wreck This Journal
book by Keri Smith. My mum got it me for Christmas a few year ago, I did one page then forgot about it until
Sam
told me she had found it in a charity shop and thought we should make it into a sort of challenge thing, which I was immediately up for! I'm determined not to let my creativity wane after finishing Uni so anything that get my creative juices flowing I'm definitely game. I'm also starting my own art journal, which I'm astounded I've never done before! Bad art student!
So if you have recently bought this book and find it a little daunting or need a little push to actually do it, you can join in with us if you like :) You don't even need the book, you could just do it in any old book and just fill it up as we go along. How were doing it is, me and Sam are going to take turns each weak in choosing a page at random and then we have the week to do it. Simple as :)
This week Sam chose the 'Tester Page' for pens, paints, markers or art supplies. This actually was good for me as I desperately needed to go threw my marker draw and see if they all still worked!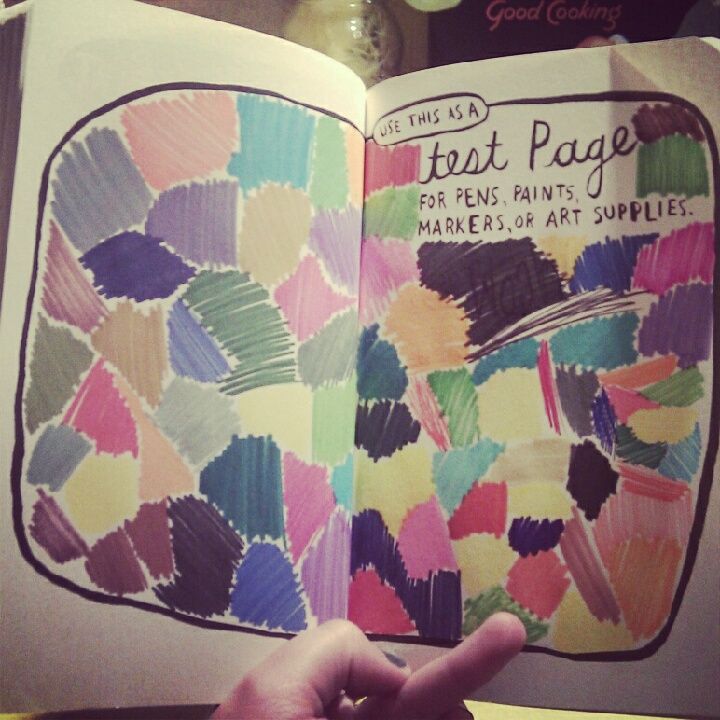 If you want to do this with us be sure to leave a link in the comments and we can see what pretty creative things everyone comes up with :) Also check out
Sams
and she what she came up with :) This week is the 'Vegtable Block Printing' I think this one will be fun :)