When the end of Uni started to loom closer and I hadn't found a job
(still looking)
I decided I wanted to keep busy with creative things so I wasn't stuck at home everyday wasting my time. I've been searching for classes that I can take in pretty much anything that will get my inspiration going. The other day I was in Starbucks and I noticed a sign saying they were going to start up a knitting club and to ask for details. I jumped at the chance and they took my number. They rang me the next week and said it was going to start on the 29th of May and am I still interested. Of course I was, so on Tuesday, wool and needles in hand, me and my Nan went to knitting club. I was told that it was supposed to be like a social thing where people who like to knit would come and have a natter and a knit, which was fine with me because i'm already working on a project
(top secret mind you!)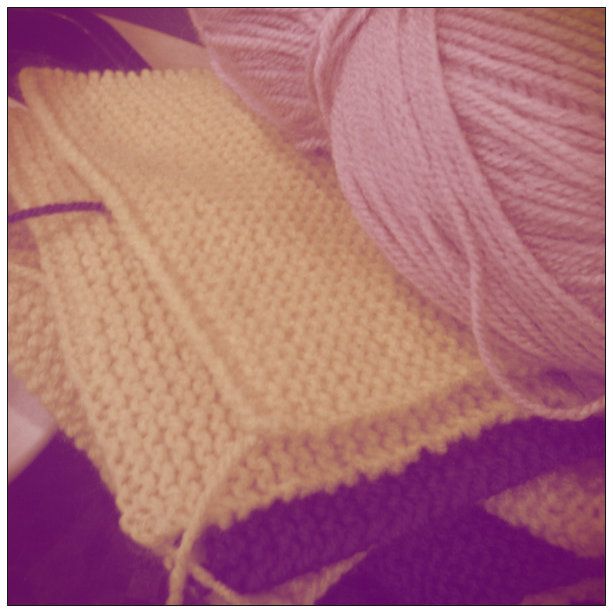 When we arrived there were 6 other older ladies
(I was the youngest by about 40 years!)
I had expected to just sit there, drink coffee and have a chat with my Nan but it was brilliant!! I got chatting to this sweet old lady called Val who used to be a dress maker but know she was older she couldn't do it anymore so she had just kept with the knitting instead. I told her all about my shop idea and that I wanted to start making my own clothes and she said she would look for all her old dress patterns and give them too me!! This person I had only just met
(i didn't even know her name at this point!)
and she wanted to give her dress patterns to me!! I could of kissed her. We chatted for ages about the little dolls she makes and she asked to see what I was working on. She told me I was a brilliant knitter, very neat and tidy. She showed all the other ladies and they all said the same thing. I was so embarrassed but secret pleased. I get along with old people much better than anyone else and to have all these little dears gushing about my knitting, well I felt like i'd been made an honorary old lady! She asked me what else I knitted and I told her that I only knew basic stitch and that I didn't even know how to pearl. Her exact words were 'oh bless you' and then she took out her needles, patted the seat beside her and then proceeded to show me all the different stitches. She then told me to bring a note book next time and she would teach me all the different stitches and how to do them so I could write them down and how to read knitting patterns. I mean, how cool is Val!? I think she's my new best friend.
There was another lady there too who owns a little knitting shop and she came with lots of wool and scarf patterns to buy of her so I bought one from her and then she showed me how to do it
(It was so easy, I've already made it!)
She also taught me how to change colours and stitch squares together. I learn best when I see things done. If I read instructions, It doesn't go in, but if someone shows me I get it straight away. I had such a great time, and these lady's just made me year. They were so funny, no one knew each other yet they all joked around and laughed like they had been friends for a life time, and I think that is so precious. So even if this little club doesn't last long and we only meet a few more times I feel so privileged to have met and knitted with these little dears.