So I've decided to do my Liverpool trip with my mummy in a few separate posts a) because we did so much it would be a stupidly long post b) there are a few things that need their only posts c) you don't want to hear all the boring bits so i'll do a few mini ones on the main points. This first one needed it's own post and even before we went I have wanted to do a post on this little gem of a restaurant.
To be clear I am in no way endorsed by Leaf and all the words in the post are my own oppinion and statements.
On the Saturday mum had booked an afternoon tea for two at a little restaurant called
Leaf
. I've been there before but only at night, when it has band nights and cool indie things like that. Also one Sunday a month it has a vintage fair which I am dying to go to, I just never find myself in Liverpool on a Sunday. Anyway....Yeh, so on Saturday we went for afternoon tea, it was amazing! First off, they show you to your seat, there all mixed matched wooden tables and some benches so everyone kinda sits together. It's a very sociable atmosphere. There was only one other family when we went so it was quite quiet but the place is just beautiful. On the table there a little box full of samples of all the different tea you can have, it's unlimited too which made me very happy! I chose to be little daring and had Cherry Blossom tea, it was so yummy, and exactly what I thought cherry blossom would taste like! Our names were even on the place matts, just so adorable
(note that is mums name not mine! Just in case you were confused)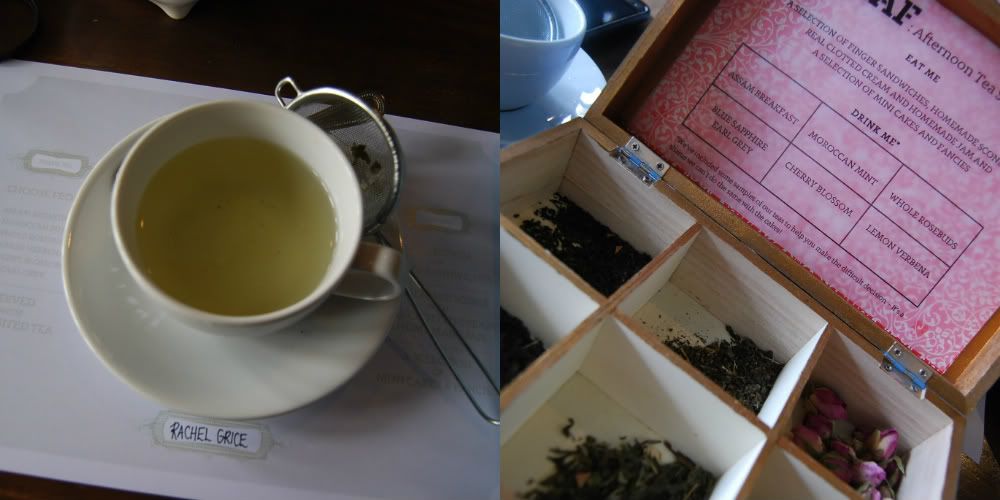 When they bought the food out it looked so yummy and well presented, all made in house and it tasted just as yummy as it looked. There was much umming and arhing coming from both of us haha! It was almost too good to eat but we got over that pretty soon and scoffed it all. Now I'm a bit of a pig and my eyes are definitely too big for my belly and I asked mum when they were bring hers out because there was no way this would be enough....
...It was. There was so much food! It doesn't look it (or it didn't look it to me) but there was two of everything so we got to taste it all and by the time i'd finished my finger sandwiches I was stuffed!! They were delicious, apart from the lemon hummus...I hate lemon. THE CAKE! Oh the cake! No words can describe how mmmm that cake was. I think I even asked if the chef was single because any many who can bake a cake like that should be my husband haha!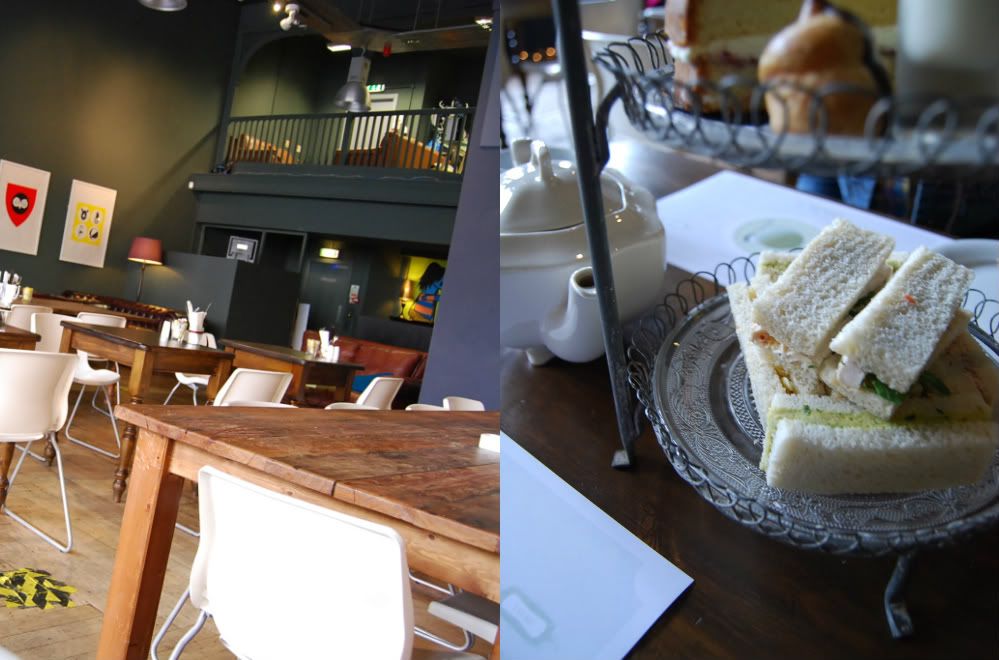 We got the waitress to take a photo with Terrance, she was really interested in him asking loads of questions. It was like she'd never seen a film camera before. I thought it was really funny that when people have so easily forgot that there was a time when not everything was digital. She seemed so amazed and baffled by it! I loved the fact that in a matter of seconds I could see the photo and hold it in my hand, and get cool photo-in-a-photo shots. This gave me cool enough artist flare that I was satisfied and carried on eating my scone.
These two photos are my fave. This ladies and gentlemen is our im-trying-to-smile-and-look-purdy-whilst-trying-not-to-show-you-the-massive-amount-of-food-that-i-still-have-in-my-mouth-at-the-same-time-as-trying-not-laugh smile! Don't we look beautiful. You can tell by my eyes that I'm laughing hysterically inside. I always think its crazy how alike we are, but at the same time I'm identical to my pops. People always say I'm an exact equal mix of them both and I've always wanted to put there faces into one of those see-what-your-babys-gonna-look-like machines where you mash two peoples faces together just to see if you would get a picture of me. If anyone has the means to do this please get in contact because I'm not gonna lie, this is one of those crazy life long dreams that I have. So yeah...just hit me up.
We were super stuffed afterwards but it was so yummy, if you'd of put it front of me again I would of found a way to eat it. Also the windows in this place are beautiful. We think it was an old theater from the wall decor and the outside. The nice thing is all the paint is pealing and the features are all falling down so it has that shabby chic look that I love. So if your ever in Liverpool definitely go here because its lovely and the food is delicious! And if you happen to bump into the pastry chef tell him I want to marry him!!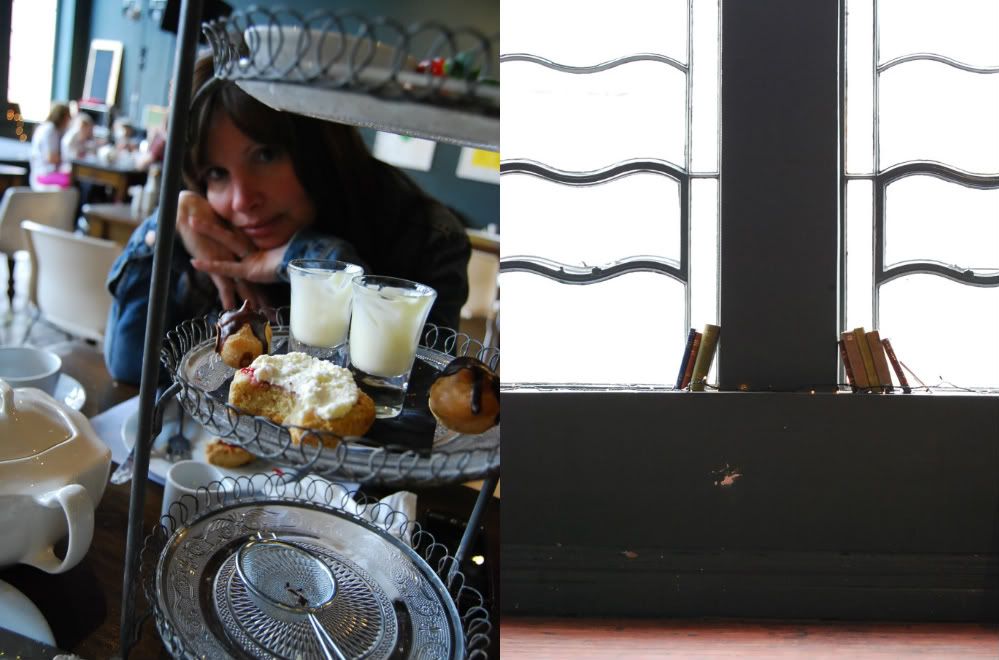 (just to clarify I am in no way endorsed by Leaf and all points and statements are my own words and opinions, it just really is that good)