It seems I talk a lot about Boy&Bear (
here
and
here
) I would promise this is the last time but it wont be...Well last night I went to see them!! They were absolutely fantastic!! Like...one of the best gigs I've been to (I say that all the time but this time I mean it) It was such a tiny place there was 50, 60 people tops, it was so intimate and the atmosphere was great. They sang all my favourite songs and they had such a good sense of humor it was great. To say the show went smoothly would be a lie, they weren't really prepared and there were a few hiccups but no one minded, it was all part of the experience and it created friendly banter between band and audience. If anything it made the show even better. These are some top guys and they are all so adorable I just wanted to gather them up, put them in my pocket and take them hope to meet the parents and have a cup of tea. They were a class act and well worth the wait, and the ear ache. I was so ill yesterday but I would not of missed it for the world and even though I had the worse ear ache and splitting headache this morning I couldn't care less. Probably my fault though, I did stand right next to the speaker, but you gotta do what you gotta do to see when your as short as me!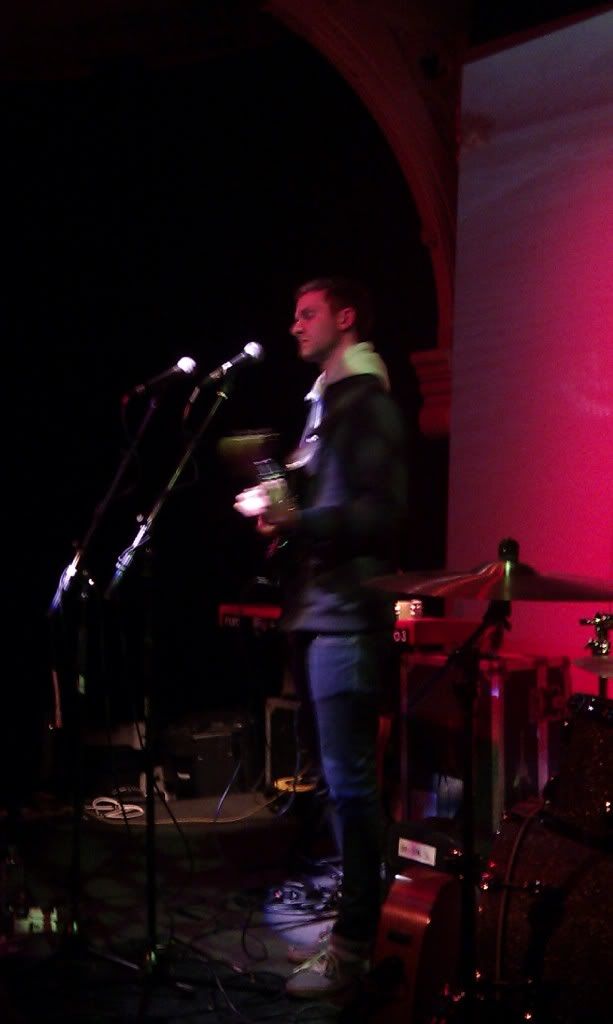 Oh, and I just have to say this. The support act. Just wow! I don't usually like support acts and its only very rarely that they are any where near as good as the main act but this guy was bloody brilliant!! He's called
Monument Valley
and you HAVE to check him out! It was just him and his guitar and I was just entranced by his music and his voice. The whole room was quite, some would take that as a bad sign, but you could just tell that everyone was just soaking in every little sound that this guy made. No one wanted him to stop and I could of listened to him all night. To make things even better, he was a really nice guy! We went to talk to him afterwards and he was just the sweetest, humblest guy I've ever met.
The whole night was just amazing, best thing that's happened all year and I really hope that they tour again and if Monument Valley ever tours on his own I am there!! Best new discovery for a while.