So after much debating, I have decided to get rid of my baking blog and move it all over here because I'm pretty excited about my 'Baking With Holly' feature. I like having separate blogs for different subjects because that's how I organize things normally, but keeping track of multiple blogs is just not happening for me right now, So here is my baking stuff transferred over :)
The first one is my (not so) famous, Lemon Drizzle cake! I don't like anything lemony so it was quite hard to know if it tasted right...The recipe seemed to me to put a lot of lemon in but dad, who loves lemon, said its fine. It was a lot of fun to make and really easy!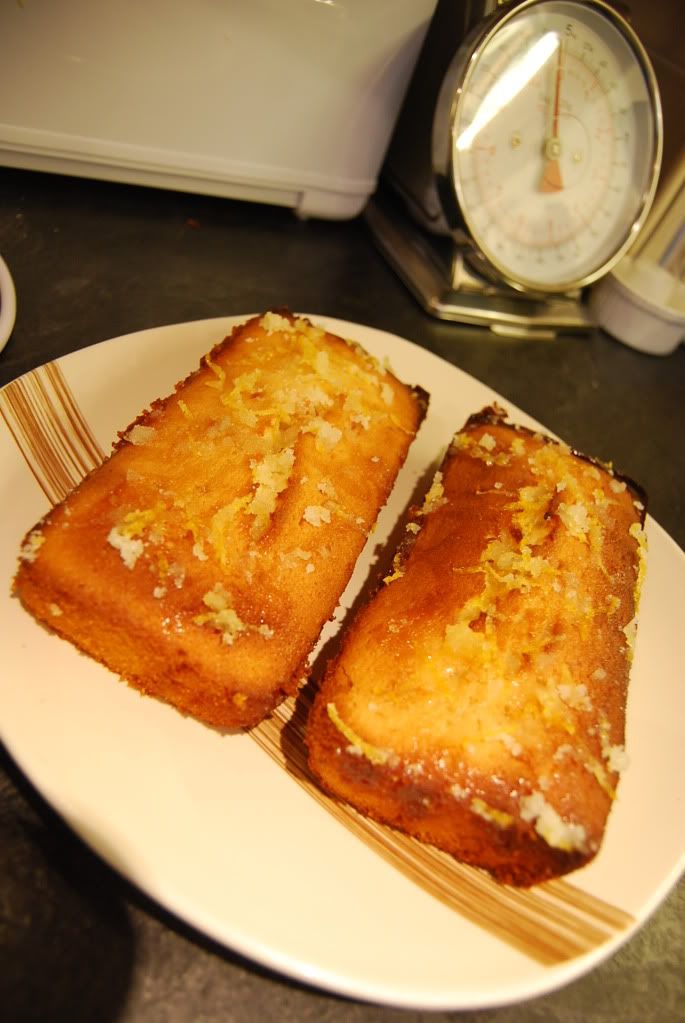 (After dad had a small taste.......and then some)
RECIPE
taken from chocolate & baking
125g/4oz butter
175g/6oz caster sugar
2 large eggs
175g/6oz self-raising flour
2 lemons
50g/2oz granulated sugar
Preheat the oven to 180C/350F/Gas Mark 4, 10 minutes before baking. Lightly oil and line the base of an 18cm/7 inch square cake tin with baking paper (I used 2 tea bread cake tins)
In a large bowl, cream the butter and sugar together until soft and fluffy.
Beat the eggs, then gradually add a little of the eggs to the creamed mixture, adding 1 tablespoon of flour after each addition.
Finely grate the rind from 1 of the lemons and stir into the creamed mixture, beating well until smooth.
Squeeze the juice from the lemon, strain, then stir into the mixture (there looks a lot but it isn't).
Spoon into the prepared tin, level the surface and bake in the preheated oven for 25-30 minutes.
Using a zester, remove the peel from the last lemon and mix with 25g/1oz of the granulated sugar and reserve.
Squeeze the juice into a small saucepan. Add the rest of the granulated sugar to the lemon juice in the saucepan and heat gently, stirring occasionally. When the sugar has dissolved, simmer gently for 3-4 minutes until syrupy (it doesn't go gooey like I thought, It just goes a browny yellow colour).
Take the cake out the oven. With a cocktail stick or fine skewer prick the cake all over.
Sprinkle the lemon zest and sugar over the top of the cake, drizzle over the syrup and leave to cool in the tin.
Cut the cake into squares and serve (I just left mine as two loafs).
Happy Baking!