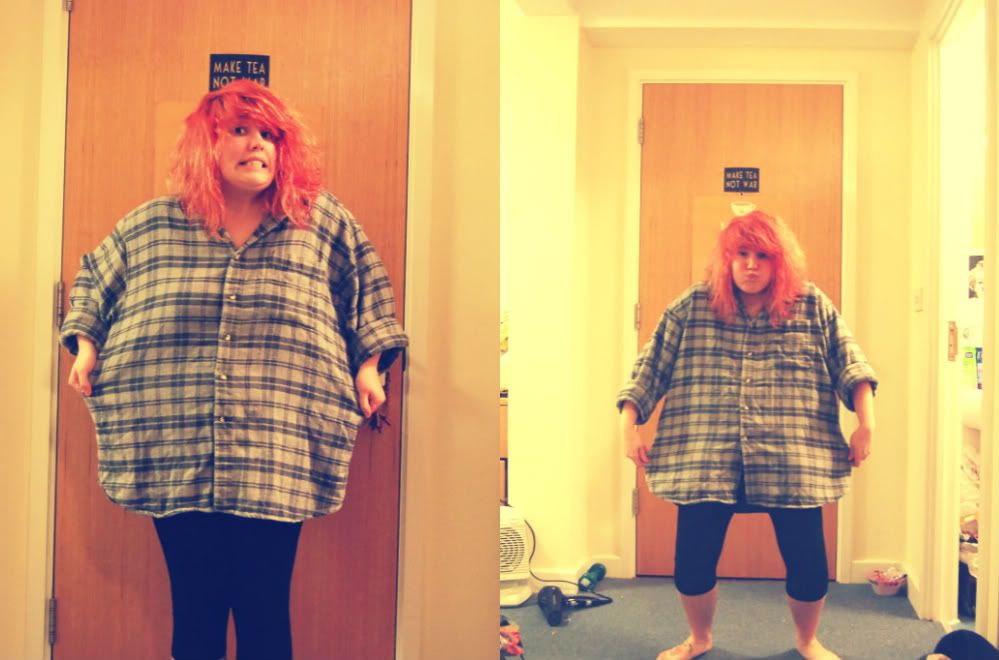 Sorry for the lack of posting this week, I've been quite busy with birthdays, uni work and pancake eating. I'm back home for the weekend now after being at Uni for a solid two weeks. I know that doesn't seem long but I'm a total home-bird and I love being back home with friends and family. It's been a great two weeks and not as bad as I thought, being away from home.
Today I thought I'd share with you my art outfit. This is not the most glamorous outfit but I love it. My dad's clothes are the best for painting in. I regularly ask him for old shirts that he doesn't want anymore for me to paint in. This one is one of my favourites. It's so thick and warm, it's great for the cold drafty Uni studios, and its funny because it's HUGE! It's an extra large and it drowns me out big time, but I think it's hilarious and it kinda works, right? No? Just me? Ok. So yeh. This is my 'uniform' or some variation of this anyway. Leggins or my painting jeans, with an over-over sized shirt that I can wear as a sort of smock. Not pictured is are my painting Toms. There my yellow ones that got ruined when I stepped in a puddle, but there perfect for painting it and not to mention super comfy!
This week as promised I've managed to remember to take photos, yey! So i've got some things lined up for you, after I abandoned you this week. Look out for my friends birthday, pancake day and a really cool app that I'm addicted to! Hope you're all having a great week, love ya!

p.s I also dyed my hair this week so probably a post on that because I love it...and it's become a huge monster, as you can tell from the pics above!!