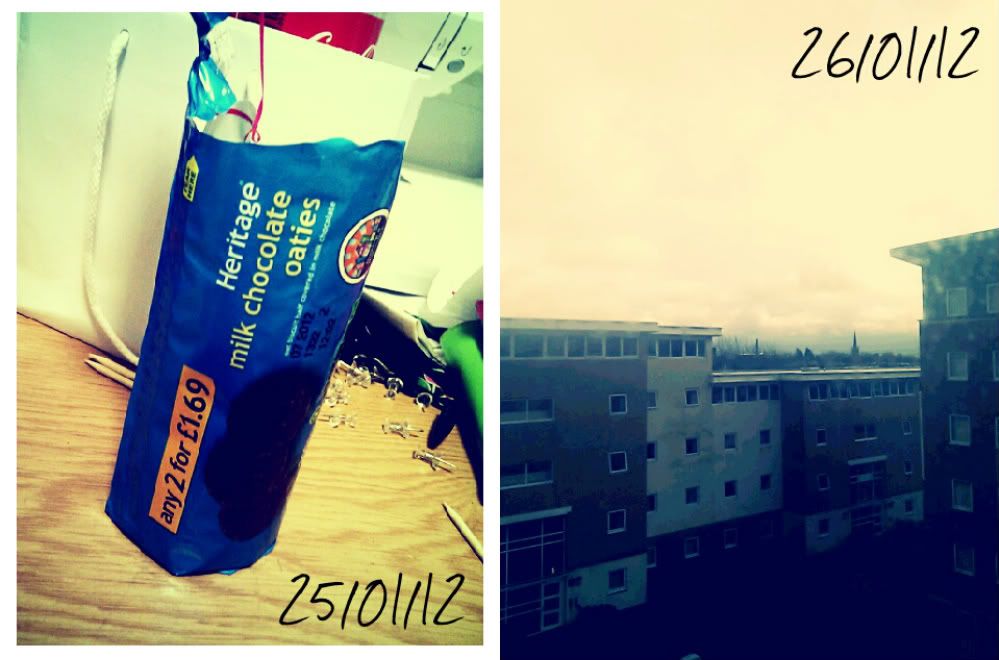 Heelloooo there! How are ya dooin ya wee lad's and lasses? I completely forgot it was Burns Night this Wednesday (woops) so there is my attempt at a Scottish accent over the Internet. I missed out on all the yummy Haggis, thank goodness! That stuff is gross!
It's Friday again! It's come around so fast its crazy, but I'm actually surprised and quite pleased with myself for actually remembering to take a photo each day *pat's self on the back* Not much has really happened this week but I think that's a good thing, where taking interesting photo's in concerned, because it makes you seek out something special and makes your day a bit more adventurous. So here are my everyday adventures for this week...
21/01/12 - Mittens curled up on my sofa. So CUTE!
22/01/12 - My old room. Finally moved out. Was quite sad :(
23/01/12 - Me, Owain and Kris in out StarWars T-Shirts...we are so cool!
24/01/12 - I got my results for first semester...I GOT A 2:1!! I'm so pleased and have no idea how I managed it, but I'm not complaining :D
25/01/12 - I ate the whole packet...
26/01/12 - This is what inspired
yesterdays post
.
27/01/12 - Today me an Stevie-pops went a look round the antique arcade. I love it there and cant wait to stock my house with its goodies. I'll show you tomorrow what I bought :)
So after yesterdays post I think the weather wanted to test me. It rained hard. But I went to town anyway and I didn't complain once. I was freezing cold and the rain felt like pins being jabbed into my face but I just went with it. Some guy walked past me moaning about it to his friend, but he was wearing jeans and a short sleeve shirt with no coat or jumper...idiot. I was thinking after I wrote the post about maybe doing a feature on it? Like maybe one a week or fortnightly sharing things that I like about the rain? Sounds a bit lame saying it one here, but I suppose I should do something that I'm passionate about and what floats my boat (ba dum dum...) so I'll think it over and maybe plan a few and see if it's worth it.
Also today I'm writing over at
EC-Everything Entertainment
about Zooey Deschanel's new show New Girl. Go check it out and tell me what you think...I'd love to know what you think and whether I should write some more reviews for EC? I hope you all had a good week and have a good weekend! Much love