Here's another addition of Creative Spotlight to wet your creative appetite. Today I bring you Cameron from
Cameron+Whitney
! You heard about them from my first
Look Who I Found
feature and I'm so happy the Cameron agreed to take part in this CS because I just love his papersculpture's! Below is a little interview and some samples of his work. Enjoy...
How did you get into art or have you always been artistic?
I've been drawing since I was 4 (or at least that's my earliest memory of creating something) and have spent a majority of my life doodling in the margins of my homework. My mother was an artist as well and she really created an environment in our household that was conducive to imaginative artistry and creativity, which is really what initially got me interested in art at a young age.
Your paper sculptures are adorable. What made you think that you wanted to work with paper?
Thank you! Working with paper in this manner is just incredibly fascinating to me, primarily for two big reasons. The first being that there is a very unique and dynamic interaction that occurs for the viewer when looking at a papersculpted piece, where you have the duality of a 2-dimensional illustration, done in 3-dimensions. Creating that depth in actual physical space rather than simply implying it with illustrated shading, just adds so much to a piece in my opinion; the image interacts within the viewer's reality rather than separating itself by being 2-dimensional. The second reason that got me into papersculpting was just the rewarding feeling of constructing these pieces. I illustrate and I paint, but I have never felt more enjoyment or accomplishment than when I am working with paper.
Where does your inspiration come from?
Viewing the work of other artists out there that I truly admire and respect. I am completely blown away at the creativity, inventiveness, and originality that some artists out there are able to constantly and consistently display and it really drives me to better myself as an artist. My girlfriend Whitney, my mother, and my family also inspire much of what I create, and without them, I would still be at my old crappy day job, doodling on random pieces of scratch paper.
Apart from paper, what other mediums do you like to use?
The only other mediums I've had experience with is illustration and acrylic painting, both of which I get to incorporate into my papersculpting work as well. I'm slowly (very very very slowly) getting practice in with the digital medium, but it's a tough transition so far. I try to do 30 minutes of warm up doodling in photoshop every morning before I work on anything else and my comfort with it has steadily increased. Baby steps!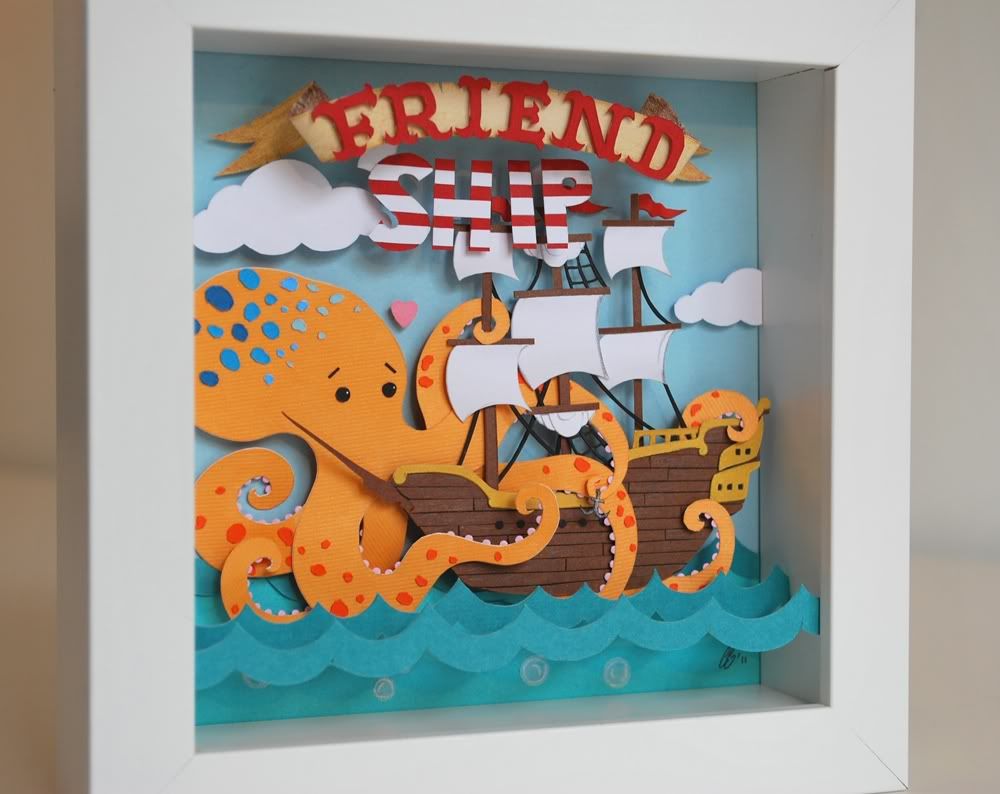 If you could give advice to anyone wanting to pursue a career in art what would it be?
Network, network, network. Some advice I got a long time ago, well before I ever even thought of pursuing art as a career, was that "it's really about who you know," and so far that advice has proven it's worth. I'm not saying that I just started out knowing the right people and almost overnight I began selling my work, but you'll be surprised at how capitalizing on a single opportunity can lead to many more opportunities, which have the potential to lead to even more opportunities, all of which can be credited to the acquaintances you make through these instances. It's crucial that you utilize as many social networks that are applicable to what you do, while paying acute attention and thinking creatively to find such opportunities or have these opportunities presented to you.
If you want to find out more about his work, chat or just say hi pop over to his
blog
, I'm sure he'd be happy to have you. You can also find him on
Etsy
, maybe you could snag yourself a cute self portrait or a gift for someone special.

p.s If you want to take part in a Creative Spotlight just drop us an email at littlelolly90@hotmail.co.uk and header it with 'Creative Spotlight'