This weeks Wishlist Wednesday is my wish list from one of my favourite shops EVER!
Dolly Dagger
!! It sells beautiful 30's-50's inspired clothing. Perfect for my dream style! I wish I could wear clothes like this everyday but at the moment my patience and drive just isn't up for dressing amazing everyday. Probably the stress of Uni and the fact that, doing an art course, I don't want to ruin my pretty lovely clothes! Hopefully one day I will dress like I really want to...Best start collecting clothes now...only 6 months till I finish my degree!!
Top//Earrings//Necklace//Shoes//Skirt//Bag
This outfit is inspired by my favourite pin up style. Sailor Girl! You can find all these items on the website in their little Sailor Girl style section. I just love all this outfit. The off the shoulder top with the hip hugging pencil skirt is just so sexy and I like how you get the red and white stripped detail down the bottom. It really ties it all in. I think the shoes are beautiful but I would probably go for plain red or blue heels (they didn't have any but these go fine!)
Earrings//Shoes//Dress//Bag//Necklace
Another love of mine is spots! Especially red with white spots. While putting this together I was thinking 'maybe too many polkadots?!' but naaah! The more the merrier!! This bag and dress I have had my eye on for AGES! Every time they have a sale I hope and pray this dress is in it but I don't think it has...maybe I'll be lucky next time?! I love the earrings and necklace. My favourite pie and my love of space...all mixed together in one big red spotty ball (sounds gross doesn't it!!)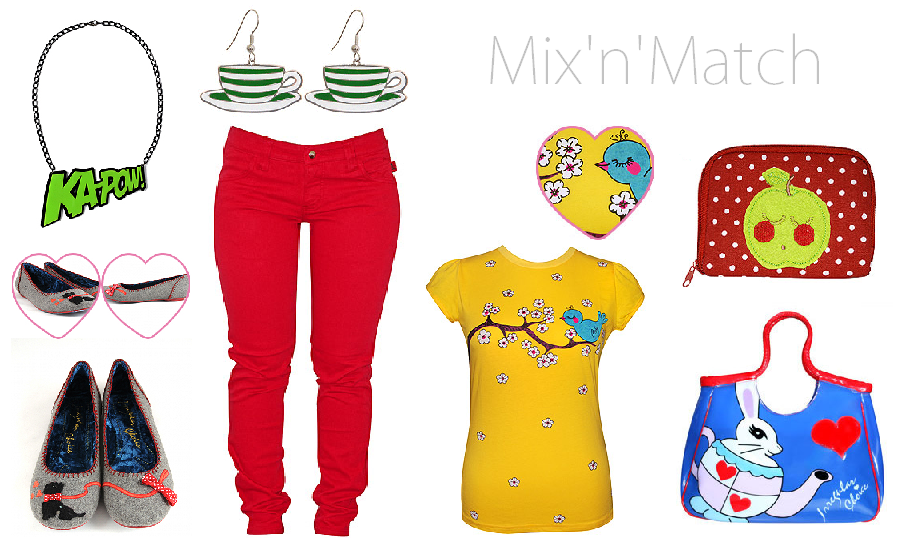 Necklace//Shoes//Earrings//Jeans//T-Shirt//Bag//Purse
This last one is a little mash up of everything that I love and would wear on any given day. I ADORE yellow, so it had to be the yellow T-Shirt even though I do love this one. I think the Jeans are great, love red and yellow together and I think I might get the tea cup earrings. I do need some new ones and these are so cute! I've also been eyeballing those shoes for a while but the red version...haha! I do love me some red! (can you tell?)
Do you know the joys of Dolly Dagger? What is your favourite piece?