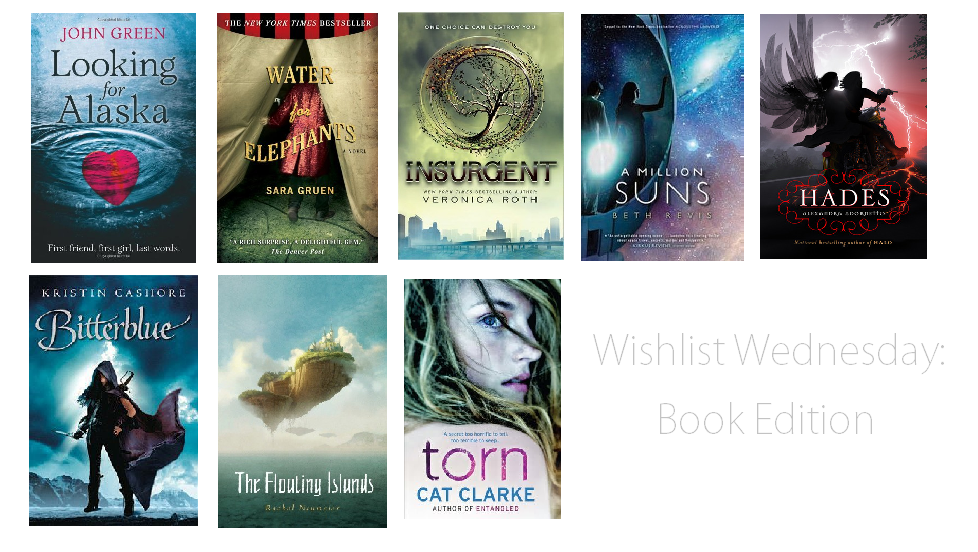 This week I thought I'd take a break from the clothes. I went sale shopping yesterday and I don't think I want to see another item of clothing in a while...well until I go shopping again later today!! It was completely chocka and there was many banging of elbows and bashing children on the head with shopping bags. Got some lovely things though which i'll share at some point either with an outfit post seen as I have just ordered a new camera lens or just a collection photo :)
So here are some of the books that I really really really want!
1. Looking For Alaska by John Green - I read an exert from this book yesterday and I fell in love with the characters so I cant wait to read it!!
2. Water For Elephants by Sara Gruen - Ever since I watched the film I have been dying to read the book
3. Insurgent by Veronica Roth - The first book was amazing so this should be brilliant
4. A Million Suns by Beth Revis - This represents the whole series!
5. Hades by Alexandra Adornetto 6. Bitterblue by Kristin Cashore - I've been waiting for this book for ages!
7. The Floating Islands by Rachel Neumeier 8. Torn by Cat Clarke - Love Cat Clarke. Her books are brilliant so cant wait for this one!
If you have read any of these or have them on your to-read list please tell me what there like. Would love to have some reviews on them :)
Today is shopping and doing the last rounds of visiting family for Christmas and hopefully meeting up with my best friend for a dinner and a well needed catch up :) Hope you all have a great Wednesday!