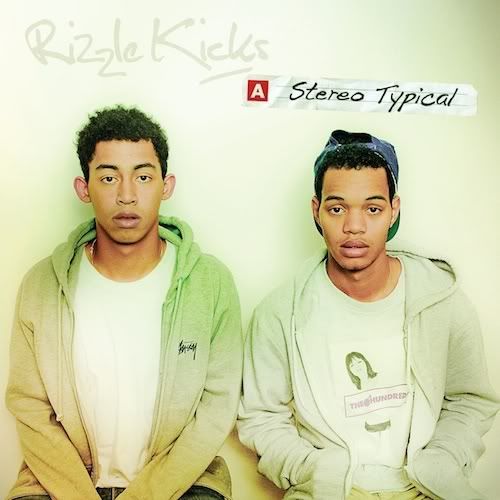 So this week I purchased the Rizzle Kicks album. I haven't bought a CD in ages but I just had to have this one. One of my favourite songs this year is 'Down With The Trumpets' and judging from their other singles I knew it would be a winner. I wasn't disappointed in the slightest! I love the sound their voices make. It's not grating and inaudible like so much hip hop is lately. I think this might be down to the nice melodies and beats that they use but I can actually understand what they sing about!! (I sound like a 90 year old granny!!)
I was listening to it whilst baking cupcakes in the kitchen and I was dancing like a crazy fool. I love their fun style, they just have a laugh and that always makes me enjoy something more, when you know who ever did it had fun doing it :) Must listen to's are 'Down With The Trumpets' (obviously), 'When I Was A Youngster', 'Traveller's Chant' and 'Learn My Leason.' All these tunes are really up beat and have a bouncy bounce to them and if you like to dance around the living room, home alone with the music blarring I'd defiantly recommend, if not the whole album, these 4 songs :) I'd give this album a 4/5 and I would defiantly go see them in concert if I got the chance.
Next album will be LMFAO-Sorry For Party Rocking sometime later this week. I got it when I bought Rizzle Kicks but need to listen to it all the way through yet :)
Hope you all had a great weekend! What are your plans this week? got any concerts planned or band nights at the local pub?
P.S I got a great bargain on some books yesterday in a charity shop. it was 3 for £2.50 so I bought all six of the Black Dagger Brotherhood series!! I've wanted to read them for ages but I always think twice about starting a really long series because I don't really want to commit to being able to afford them all, and I just hate not finishing books/series!! But this was too good to pass up. I started the first one last night, so hopefully by next Monday - Bookworm Monday (I know I said I was gonna scrap the features but they keep popping back up on me!!) I will have a nice little review :)
Stay Amazing X