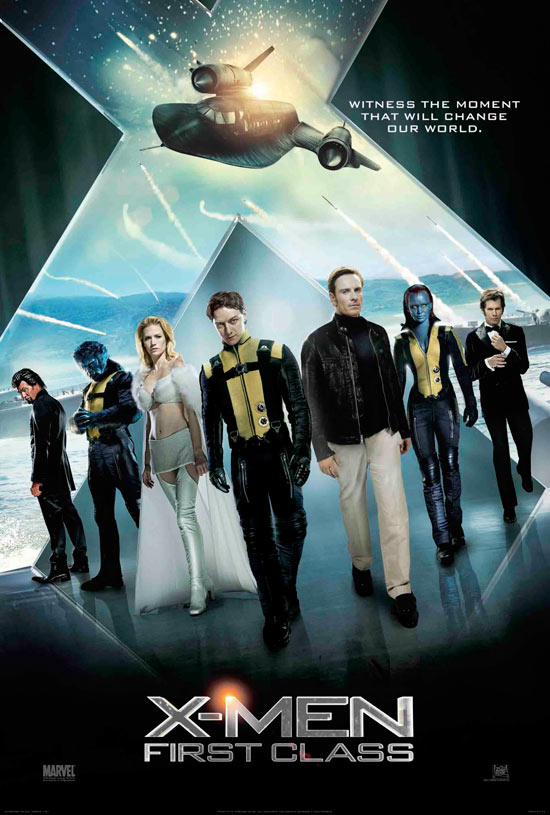 I know that it was almost two weeks ago that X-Men First Class came out but as its all been up in the air with me so I'll take this opportunity to have my say :)
I thought it was really good! I really enjoyed it. I was a bit iffy about it because I didn't think Wolverine was that great but this was so much better! I loved Eric (Magneto) and Charles (Prof X) and their relationship. I loved how witty and funny Charles was (the fact that James McAvoy played him had nothing to do with it :P) I thought the cast was really good and they all suited there mutation rather well. The only thing that annoyed me is that they all seemed to have more than one mutation. Having more than one is fine but they just kept popping up out the blue and it just got a bit silly. Maybe I wasn't really paying attention and it'd be better second time round but that's just how it seemed to me.
My favourite character was the Angel Salvadore. Not because she was a particularly good character but I just loved her mutation. DRAGONFLY WINGS!! How cool is that!
I liked that you got to see where all the characters came from and there backgrounds and how they came to be how they are in the original X-men. So all in all a great film. Not fantastic because there were some things that weren't quite right but I forgive them for making it fun as well as exciting :) So go see it if you can!!
Have you seen X-Men First Class?
What did you think?